For many years, the general public thought of real estate auctions as solely comprised of distressed properties.  If you were to tell others that you were selling your home via an auction, they may have raised their brows and passed some judgment on your financial situation. Fortunately, today real estate auctions do not have such a negative image, as a majority of auctions today are comprised of luxury, unique, custom, or even commercial properties and land. After all, auctioning off your home is a cost-effective and quicker way to sell your home.
Today, let's discuss what factors may impact auction success.
Sales Price. It is important that the seller have a fair sales price and terms. Those that list their home too high may find it challenging to get people to bid at such a price. You can certainly discuss sales price with your realtor and have them do a comparative market analysis before deciding on a price.
How desirable the property is. The success of the auction will include factors like the condition, location, and property values of surrounding homes. The better the desirability, the more you'll be able to ask for the property.
Auction type. Your success may depend on what auction type you choose.
Marketing campaign. You will want a top-notch marketing plan that gets your Florida home in front of as many prospects as possible. A solid and experienced realtor will be able to have your home in front of those who are serious about moving forward with an auction process.
Realtor experience. You'll have more chance at success if you use a realtor who has experience with real estate auctions.  Don't waste your time on those who can simply promise you success without having the background to back them up. This assures you that the auction will be done professionally and the process will tend to go much smoother than if you went with an unexperienced realtor.
Assure that due diligence is a go. Before moving forward with a prospective buyer, be sure that the due diligence information is given to buyers beforehand.
Condition of the property. Do your best to have the property in pristine condition before the auction begins. You'd be surprised at how much more desirable a property will be when it has been cleaned up and even staged for appearance sake.
Get details in order. Have title insurance and financing taken care of ahead of time.
Have a positive attitude about the real estate auction process, as auctions are becoming more and more popular all the time. With us being in the age of the internet, most homebuyers are delighted to have the chance to view properties online and offline and then move forward with the auction process.
Should you have any questions regarding real estate auctions in Tampa Bay, Florida, feel free to contact a real estate professional experienced with auctions today.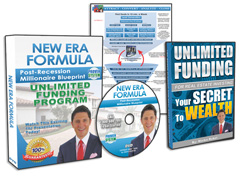 Request FREE Funding Kit and Discover How To Legally Bypass Banks And Gain Direct Access To "No-Credit-Required" Funding You Can Use To Achieve Your Financial Freedom... Start Now!