When one invests in different assets, (think real estate, company shares, etc.) the aim is to be able to generate money without having to do too much.
Who doesn't desire to stay at home relaxing while the amount of money in your bank account keeps on increasing?
This is exactly what the term passive income means; earn cash without putting the time in. There are numerous different sources of passive income which allow you to do so, some being rent from real estate, licensing income that you earn from having intellectual property, dividends earned from stocks and loads more.
However, there are certain things you should be looking for when adding passive income sources to your portfolios in order to reap profits.
It is essential for your passive income stream to be safe
When money is being directly deposited to your account, or whether you've been given checks through emails, it is very important to make sure that the money you've received is going to be there. A safe stream should be your first priority when you own different assets, properties, etc.
Know how much growth is to be expected in the amount of income that is generated annually
Since businesses are growing and profits are being expanded, you are bound to experience an increase in your earnings. Investing in properties and assets will help, as over the years these things will become more valuable and prices will increase. Therefore, you'll earn more.
Make sure to invest in diverse assets
It is important for you to have a number of different assets rather than relying on one or two. If you are someone who relies on their portfolio to make ends meet, then it is important for you to understand the importance of investing in different assets.
This way, if you were to face any sort of issue with one of your investments, it won't affect your standard of living since the other investments will be there to make up for it.
On the other hand, if you were to invest in only two assets, you'd face a lot of crisis if something was to happen with either one of them.
How much tax will you pay on each investment?
It doesn't matter how much you're earning in isolation, what matters is how much you will receive after the tax proceeds. Therefore, make sure to always calculate the net and see what you'll receive after the tax proceeds for each year.
In some investment cases, you could be taxed quite a lot, therefore its always better to learn a bit more about tax law so that you can opt for different types of money holding in order to become a bit richer.
Passive income is a great way to build your wealth over time, so continue to learn about ways you can invest wisely. This way, you set yourself up for a life of financial independence and freedom.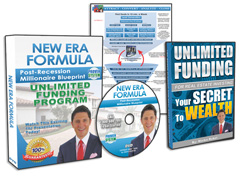 Request FREE Funding Kit and Discover How To Legally Bypass Banks And Gain Direct Access To "No-Credit-Required" Funding You Can Use To Achieve Your Financial Freedom... Start Now!