While the real estate market has a lot of potential for profits, it isn't without its own share of risks. You ought to be vigilant and keep an eye on the ever-changing scenarios to ensure that you continue to make the right investments as well as increase your chances of protecting the investments you already have.
If you've been keeping up with real estate news, you would know that the U.S. Median Home Sales Price have shown an all-time peak at $248k.
Let's understand the statistics and see the areas where the market has experienced the biggest, as well as the smallest amounts of distressed property sales.
According to the ATTOM Data Solutions Q3 2017 U.S. Home Sales report, the distressed home sales seem to have fallen to the lowest point ever since 2007. According to the report, distressed sales, including all the bank-owned sales, short sales, and even the third party foreclosure auction sales have fallen.
Bearing in mind the current downward trajectory, it is believed that within the distressed sale, the share might return to its pre-recession standard of having a single-digit percentage.
A lot of markets are suffering from foreclosure activity due to having experienced regions of weakened economy or from a natural disaster. This has led to distressed sales becoming more localized as there has been a huge increase in foreclosure activity.
Distressed sales
There are numerous markets that have suffered. According to a report, there are multiple areas with markets that have the biggest share of distressed sales. Some of these include areas such as Atlantic City in New Jersey, McAllen-Edinburg in Texas, Montgomery in Alabama, Youngstown and Akron in Ohio.
On the other hand, there are some areas where you'd find the markets that have the smallest amount of distressed properties being sold. These areas include San Jose in California, Salt Lake City in Utah, Provo-Orem in Utah, San Francisco, California and lastly Austin, Texas.
You should take note that the year 2017 has experienced an increase in the median sales prices all over the world. There has been a 10% increase as compared to the prices in 2016.
Areas such as Los Angeles, Dallas, Detroit, Seattle and Atlanta (included in the 55 metro areas out of 126), all have experienced median home prices that have exceeded the pre-recession peaks.
As a real estate investor, it'll do you good to continue keeping an eye on such reports and understanding what such changes could mean for short and long term real estate market prospects.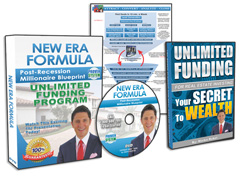 Request FREE Funding Kit and Discover How To Legally Bypass Banks And Gain Direct Access To "No-Credit-Required" Funding You Can Use To Achieve Your Financial Freedom... Start Now!