As a property investor, you want to build financial independence, as this can give you a feeling of security. There are plenty of people out there struggling financially that do not feel secure when it comes to their current or future financial picture.
The need for security
The need to feel secure is a basic need for all people. Whether it's in the form of shelter, sustenance, or money, we all want to feel as if we have enough. We want to feel like we're taken care of and will never go without.
However, there are some people whose need for security is fear-driven. They expend a lot of energy because of the fear of running out, not having enough, or they tie their level of peace and happiness into how much they have.
This can become quite tiresome and cause emotions like anxiety, depression, frustration, anger, and more.
What's at the root of your investing?
As property investors, we invest in properties for various reasons. Some want cash flow that sets them up for retirement. Some want to build their wealth considerable. Some simply want to test the waters to get a feel for it.
But if fear is that root of your investments, you may be setting yourself up for disappointment or failure. If you're taking extra big risks based on fear, or holding back too much out of fear, you're most likely not going to experience that feeling of security that you desire.
What do you base your security on?
The reality is that there are many things that people base their feelings of security on. Some think their security comes from money. Other feel like it comes from a stable relationship or approval from others. Still others base their security on things going as planned.
What do you base your security on?
Use the fear
You can use any fear to motivate you to make changes. For example, if you fear not having enough money, you can use that fear to help you make sound decisions regarding your finances. Things like making a budget, setting goals, taking action, hiring a financial advisor or mentor, getting a good job, etc. will help you feel more secure. You can use that fear to propel you forward in an optimistic way.
The path toward true security
True security will come from within, but outward things can make an impact. If you want to jump on that path toward true security, be sure to start with the basics:
Create your budget and stick to it
Pay off your debt
Sock money into an emergency fund
Begin building your retirement fund
Create a real estate investing plan
Spend time regularly in silence, offering gratitude for all
I've had to face uncertain times in my life, and like you, I desired to create the kind of life where I felt secure financially. As an entrepreneur and investor, I started with the basics. Was it scary at times? Sure, but I decided to use that fear as a springboard to consistently work on myself and my business. I committed to continually educating myself about financial principles, investing, and personal growth.
The path has not always been straight, but it's led me to experience great success and ultimately, true security.   This is my desire for you too!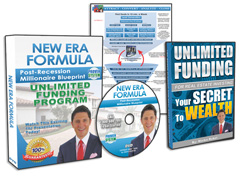 Request FREE Funding Kit and Discover How To Legally Bypass Banks And Gain Direct Access To "No-Credit-Required" Funding You Can Use To Achieve Your Financial Freedom... Start Now!