Many people think that there are only one or two types of real estate investments that they can invest in. Actually, there are numerous types of real estate investments, with some of them more profitable than others, so it's important to know what your options are.
Keep in mind that each type of investment may have its pros and cons, so you ought to do a good bit of research on the various types before you go and make an investment. Many people learn about the various types of real estate investments and then decide to specialize in a particular niche or two.
In addition, many people start with one niche, perhaps what they perceive as an easier niche like residential homes, and then later when they gain more equity, move onto a larger niche like commercial real estate.
For a general overview of 6 types of real estate investments, see the following.
Residential
Residential investments are homes, townhouses, apartment buildings, or vacation homes. These are probably the most common real estate investments and what most people think about when they think about become property investors. Some people purchase and hold such homes for the long haul and others may flip the properties or use my Unlimited Funding Program to purchase and sell.
Commercial
Commercial investments are the larger venues like office buildings or other large buildings. There are real estate investors that purchase large buildings and then lease out individual offices.
Industrial
This niche covers those large industrial buildings like warehouses, storage units, and car washes that generate income from leases. Those with a large amount of equity or assets tend to aim for such large real estate investments.
Retail
Retail investments involve retail stores, shopping malls, etc. Some property investors may even require a certain percentage of retail sales, ensuring even more REI.
Mixed-use
Mixed-use investments involve the combination of the other categories just mentioned. For example, someone may purchase a large office building and then lease out to retail shops and other businesses such as a massage parlor or insurance company.
Real estate investment trusts (REIT)
When you invest in a REIT, you're not purchasing a building, but you're investing in shares of a corporation that owns properties. You make money by them distributing their income as dividends.
These are the most common types of real estate investments, and the more you become familiar with them, the more you'll know what area you'd like to specialize in. You'll learn many lessons in real estate investing just by doing it, so learn what you can, and jump right in!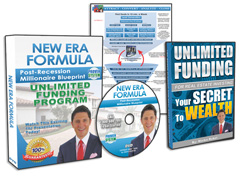 Request FREE Funding Kit and Discover How To Legally Bypass Banks And Gain Direct Access To "No-Credit-Required" Funding You Can Use To Achieve Your Financial Freedom... Start Now!