When starting out in business, it is likely that you will have to spend a decent amount of money on advertising and a lot of time networking. Advertising is important, for sure, but as your reputation grows, this should decrease some.
Want to know one thing that can help you with marketing and closing deals?
Building a rapport with your clients. This way, you can choose the deals you want, taking the good and leaving the rest behind.
Pick Your Projects
When you trust the people you are dealing with, work is much more fun. Trust has to work both ways and the customers need to trust you as well. It's not worth ruining the deal and your reputation for a quick buck. As you become better known in the investment niche, you will be able to pick and choose. That way you will only be doing deals you care about.
Be Fair
Always do what you say you will. If you don't come out of a deal too well, it is best to take it on the chin. Don't promise what you can't deliver and own up to any mistakes.
So, what is Rapport?
To have a good rapport with someone, there has to be:
Trust – if someone can trust you, most of the time you will be able to trust them.
Connection – it means that working together just feels right.
Enjoyment – work seems a lot less like work.
Understanding – know how the other person operates and accept the odd genuine mistake.
Does Rapport Work?
It certainly can work, but will take a little bit of time and effort to get going. If you are the one looking to close the deal, then you are the one who has to get the ball rolling. If you do find that you are not being met half way, then it may be best to accept there will not be a rapport this time.
If you get the rapport right, you can save a lot of time. You can learn how the other party thinks, and this will enable you to save time and effort when it comes to providing what they want. When it comes to closing the deal, a good rapport will make subject of a deal easier to broach.
How Can You Build It?
There are a few traits that will give you a head start: –
Warmth – this will ensure that people want to work with you.
Interest – do be afraid to ask questions. People like to talk about themselves.
Learn it – if you are not naturally open and effusive, you can practice. Before long it will be second nature.
Keeping It Going
Basically, you just need to keep doing what you did to build the rapport. If you are presenting a proposal, include the sales element, and if rapport is there, the agreement should be natural. If there are concerns shown by the client, your good relationship should allow you to overcome them.
Chat about what needs to be done to solve the problem. You can discuss more as friends rather than business associates. It will be easier for there to be give and take on both sides. With a good rapport, neither side will feel that they have been taken advantage of. You can get better at building rappor the more you practice, and as you do, you'll find yourself closing many more deals.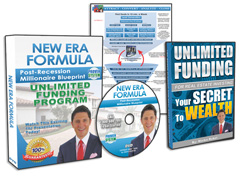 Request FREE Funding Kit and Discover How To Legally Bypass Banks And Gain Direct Access To "No-Credit-Required" Funding You Can Use To Achieve Your Financial Freedom... Start Now!