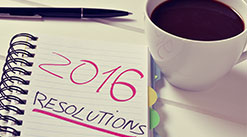 Millions of Americans make New Year's resolutions on January 1. And by February 1, millions of resolutions have already been dropped by the wayside. In fact, a University of Scranton study revealed that only 8% of people actually achieve their resolutions. This isn't because we don't want to be better versions of ourselves nor is it because we have commitment issues. Perhaps the biggest reason is simply because we don't realize resolutions require work.
Often, people don't realize that resolutions are not supposed to be easy to achieve. If they were, you'd already be doing it and it wouldn't be a resolution! Reinventing your diet, transforming your workout regimen, or learning a new language can't be achieved within a few weeks. It's something you'll have to work at all year long. In order to stay committed to your resolutions, you need to simplify the process and set yourself up for success with these four tips:
Break your larger resolution into smaller, achievable goals
Is your resolution to give up your love of bacon and become a vegan? Do you want to be able to run 10 miles in an hour? These are no easy tasks and you'll only become frustrated if the final goal is your only foreseeable achievement. Create smaller milestones to reach as you work toward your goal. For example, rather than give up meat and go vegan cold turkey, take baby steps. For the first month, try Meatless Mondays. Then, forgo meat and dairy twice a week. After that, increase to three times a week until you reach your goal. If you want to run 10 miles in one hour, start timing yourself at 3 and 5 miles before running 8 and then 10 miles. Once you build up to 10, work on slowly improving your time. You'll find that these small victories can remind you why made your resolution in the first place.
Get an accountability partner
Goals aren't easy to achieve on your own when there's no one to hold you accountable. It's much easier to skip a trip to the gym or eat fast food when you don't have anyone to remind you to stick to your resolution. This doesn't mean you aren't strong enough to maintain a resolution on your own; it just means that everyone needs help. Keep your spouse, roommate, or a friend updated on your resolutions and progress. They can applaud you and keep you motivated when you reach a goal (and kindly remind you when you start to slip).
Don't punish yourself
Remember, a resolution is supposed to be a good thing – something that is improving your life. The minute you start punishing yourself for messing up is when the resolution becomes a chore. If you give in and eat a burger or skip running for a week, get back on track and refocus as if nothing happened. Don't dwell on the negatives and focus on the positives.
Nothing is set in stone
If something isn't working, fix it. If you just can't seem to stay on track with a resolution, reassess and modify it. This doesn't mean you failed; it just means that your original goal may not have been realistic. It's better to change your resolution than to just give up altogether.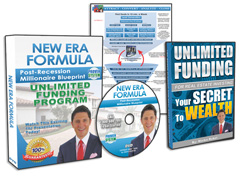 Request FREE Funding Kit and Discover How To Legally Bypass Banks And Gain Direct Access To "No-Credit-Required" Funding You Can Use To Achieve Your Financial Freedom... Start Now!