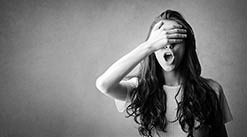 Having your home on the market for too long can be the kiss of death. Prospective buyers will assume that there is something  wrong with the property and often won't even look at or consider it. Or, they only make low ball offers, assuming you will be desperate to sell at any price. These are just a few of the reasons why it's critical for your home to sell quickly. While you may know ways to make your home more desirable, you may not realize that you are making a few small mistakes that make a major impact.
When planning on selling your home, DON'T do this:
Get Lazy with Your Photography
According to Zillow, 90% of buyers start their home search online and, when they look online, they want to see good photography. If they don't see any photos, or the photos aren't high quality, they likely won't make an appointment to view your home. If you only have a camera on your phone, consider hiring a photographer and featuring as many good photos as possible. And before you take photos, get your home photo-ready, cleaning and decorating.
List During the Off Season
Even if you need to sell right now, you could make significantly more money just by waiting a few weeks. Timing is everything in real estate. You want to list your home during peak buying season. If you list too early, your home may be forgotten by the time buyers are looking. If you list too late, you may be stuck without any potential buyers for months.
Call Your Home "Unique"
The words you use in your listing can make all the difference. According to research, listings that call a home "unique" sell for 30 to 50% less than similar properties that didn't use this word. Instead, be specific and descriptive, such as mentioning granite countertops in the kitchen or a walk-in master bedroom closet. In fact, the longer the listing description, the more the home sold for.