It's no secret that relationships and marriages fail. In fact, about 50 percent do sooner or later. This is unfortunate for the couple, and it can be a stumbling block for real estate investors as well. Why? Because where there may have been two incomes coming in to pay rent, there may now only be one. This can lead to not having enough money to pay the rent and the tenant wanting to break the lease.
Now, despite the unfortunate circumstances for the tenants, each partner is liable for the lease because they signed a lease contract.  As a landlord, you may wonder what you should do in such a case to protect yourself.
Stay calm, cool, and professional
Couples going through a break up are undoubtedly under a lot of stress. They may be ready to bust at the first sign that they're being attacked. Now, knowing this, be sure that when you do have a conversation with them, do your best to stay calm and professional.
The first thing that you can do is remind the tenants of their legal obligation according to the terms of the lease.  They should both be held accountable for any amount of money that is due before actually vacating the premises, no matter when their actual lease date was.
As a landlord, be careful not to get involved in the relationship issues. One party may try to get you to take sides and ask you to change locks or take the other party's name off of the lease.  Refrain from doing either of these. Do your best to cut conversations about personal issues short and stick to the pertinent matter at hand: the lease agreement.
Option to renew the lease with one tenant
If one tenant wants to continue living in the home, you can determine if he or she is able to pay the rent based on income and renew the lease in just his or her name.  If the salary is not sufficient, you could consider a cosigner or let them know that the lease cannot be renewed based on insufficient finances.
It is unfortunate that break ups happen, but know that they will.  If you are left with unpaid rent, you can take the tenants to court to try to acquire lost rent. The security deposit can also be used when tenants break the lease.  This is one reason you must require a security deposit up front. It's sometimes easy to let that slide, thinking all will go well, but that split up rate of 50 percent is very real no matter how much they seem to be in love.
Returning the security deposit
If the tenants are due back any or all of the security deposit, be sure to send it to the tenant who actually paid it.  If both tenants paid it, discuss with them how they would like to receive it.
If you have any concerns when dealing with such a situation, you can always contact your attorney regarding the matter for sound legal advice. You will certainly learn more about these kinds of situations the longer you are in the investment business.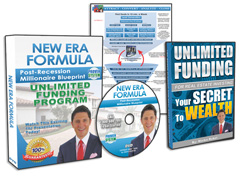 Request FREE Funding Kit and Discover How To Legally Bypass Banks And Gain Direct Access To "No-Credit-Required" Funding You Can Use To Achieve Your Financial Freedom... Start Now!