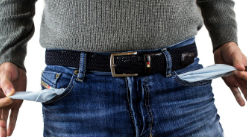 Many people would like to take advantage of the opportunity to purchase a home without needing a down payment or using their own credit. There are those that continue to rent year after year or put off purchasing a new rental property because they don't understand how to go about buying a house with no money down.
You can buy a house without a down payment or using your own credit. It's for real. I've watched a lot of people do this, and there are certain things people do that cause them problems. Here are several things NOT to do as you move forward with your plans to purchase a home.
Wait
If you wait until it's the right time to purchase a home, that time may never come around. The faster you can make the purchase, the faster your building equity for yourself. I liken this to the fighter George Foreman. George had retired from boxing, but really didn't have his financial scenario going well for him. He found himself broke at 40 years old and had to go back into boxing to make some money. He found out that waiting to start saving or investing tomorrow led him to fall on his face financially. Don't do this. Don't wait.
The time to buy a home is now, whether it's for your own personal satisfaction or an investment, begin the process now. You don't need a down payment and there's ways to do this without using your own credit.
Don't skip crunching the numbers
Regardless of whether you're putting money down on a house or not, it's essential that you crunch the numbers. If you're using my Unlimited Funding Program, you're looking for a motivated seller that will give you a deal well under the market value. Therefore, you must work the numbers, because if you just go with a gut feeling or by what your realtor says, you might get yourself into a bad deal and end up losing money.
Don't buy a condo
Some people think that buying a condo is a good investment I disagree. Condos have not proven to be good investments, so don't be lured in by the promises made by realtors. The rate of return on condo deals isn't as appealing as residential homes.
Buying a house with no credit or down payment
Now, assuming you're ready to purchase your rental property, you'll begin your search for a motivated seller. A motivated seller is someone who is experiencing a pain point when it comes to the sale of their home. Maybe they're paying two mortgages at the moment and don't want to wait until the house sells on the market. Or maybe they're going through a divorce and can't afford to make the payment on their house anymore.
There are many scenarios where a person will become motivated to sell. You don't even need highly motivated sellers. All you need is someone who is fairly motivated to sell maybe 15 to 20 percent below market value. You can find them in a variety of ways. Start searching for sale by owner sites or Craigslist. Send direct mailings out and get the word out that you're a serious investor looking for someone who is motivated to sell.
When you use my Unlimited Funding Program, you won't have to worry about your credit or come up with a down payment. The loan actually stays in the seller's name while you take over the payments. You'll then get someone who is interested in a lease to own purchase, and receive a sizable down payment that goes right into your pocket. Within a year or two, that tenant purchases the home for the price that you agreed upon in order to make the cash that you desire. It really can be that easy.
This is a way to purchase homes using "No-Credit-Required" funding and it is my pleasure to teach this strategy to real estate enthusiasts like you across the nation – because you deserve success and the wealth to back it up.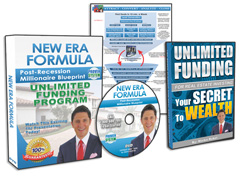 Request FREE Funding Kit and Discover How To Legally Bypass Banks And Gain Direct Access To "No-Credit-Required" Funding You Can Use To Achieve Your Financial Freedom... Start Now!