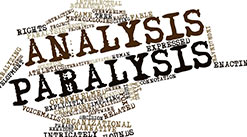 New real estate investors can easily be overwhelmed by the breadth and magnitude of all the real estate investing courses and program options to choose from. To be a new real estate investor is to have to contend with the twin obstacles of the "shiny button" syndrome and way too much "analysis paralysis", both variations of the same theme, coming from the very same playbook and all too often resulting in acts of self sabotage, keeping investors from taking meaningful action and moving forward in their quest for real estate success. To a meaningful, if lesser degree, these very same pitfalls bedevil seasoned real estate investors as well.
In every measure, it is all about either how you can best get started in real estate investing or how you may find greater success with real estate investing. It is absolutely imperative that the investor be educated in all the important aspects and concepts of real estate investing. Choosing the best educational resources for the best invested cost to you, choosing your real estate niche and strategies you wish to employ, creating your winning business plan, learning how to find and then secure the best and most productive deals, financing your efforts, mastering the business nuts and bolts with chosen systems to best maximize your efforts and game planning, and finally, to knowing and to executing your exit strategies, are other necessary considerations.
The common questions that arise time and again for real estate investors are how best to proceed in making their mark in the real estate marketplace and do I need to align myself with a mentor or coach to become the best that I could be and how that may best be accomplished.
According to Merriam Webster's Collegiate Dictionary, A Guru is a teacher and intellectual guide, a person with knowledge and expertise in matters pertaining to an area of particular concern. I mention this as there are hundreds upon hundreds of those who hold themselves out as gurus, and in the end of the day, are little more than professional internet marketers. They're not active real estate investors, there mere talking heads trying to get you to buy their next product.
These are the "gurus" who offer up a big shiny red button to take all of your problems away. It is the chasing of the next and/or latest "big thing" that provides that red "easy" button that will bring the cash flow directly your way, the next big flavor of the day you must have. For the real estate investor, particularly the new investor, it is that next twist, that next angle,that particular way of niche strategizing that is of such allure, you must pursue that shiny button, putting aside the last seducing method that caught your attention, until the next shiny button comes your way. The sales pitches from the sundry gurus are so compelling, so attractive, and so enticing, you find yourself buying into it, falling for the new shiny object to the momentary exclusion of all the others that had caught your attention. The problem is that these shiny buttons are a titanic deterrent to your real estate success. You are collecting shiny buttons and not taking action.
Then there is the fraternal sister to the shiny button syndrome, paralysis analysis, which occurs when an individual becomes either so lost or so enamored in the process of gathering and examining various points of data that he or she cannot make a decision with it. It is over thinking or over collecting that torpedoes your productivity. It is a matter of too many choices leading to no choices made to take action due to indecision, anxiety, and paralysis.
There is a solution, and you have found it. If you're reading this, you're already on the right track. Not only have I done hundreds of deals but I've helped thousands of aspiring investors with my no fluff, proven strategies. My team and I have all the resources and strategies you need to get out there and start making deals. Avoid the mindset of a consumer and become the business entrepreneur you need to be. Run your business do not let the business run you. Create your plan and stick to it. Set your goals and then strategize how best to accomplish them. No more analysis paralysis. Take action.
That well renowned motivational speaker Tony Robbins has offered "A real decision is measured by the fact that you have taken new action. If there is no action, you have not truly decided."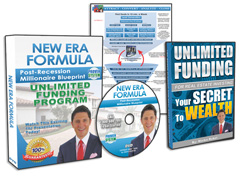 Request FREE Funding Kit and Discover How To Legally Bypass Banks And Gain Direct Access To "No-Credit-Required" Funding You Can Use To Achieve Your Financial Freedom... Start Now!