There's plenty of people in the real estate community that assert that Millennials are the crowd that comprises the majority of the renter demographic. This is the young group of millions that simply don't want to buy a home or just cannot afford to buy a home right now. There's plenty of investors that will tell you that as an investor, this should be your target demographic when it comes to purchasing homes or multi-family units and renting them out.
While it is true that the Millennials occupy a good segment of the renter demographic, there's another group of people who are increasingly becoming active in the rental niche. These are the Baby Boomers –those that are were born just after World War II. So, this group of people, who are between 53 and 71, add up to about 76 million men and women. Add in those in that age range who have immigrated here and that puts the number to about 80 million.
Baby Boomers not ready financially to retire
The thing is that many Baby Boomers are simply not financially ready to retire. In fact, about 74 percent of them do not have the financial backing to fully retire relying solely on Social Security. That's a lot of people!
Freddie Mac's Survey
In 2016, Freddie Mac did a survey of housing plans on the 55+ population and reports some interesting results. The most interesting finding is that 71 percent of those that took the survey (age 55+) do not plan on buying their next home. Rather, then intend to rent.
What do the Baby Boomers desire?
The top factors that Baby Boomers are seeking in a rental are:
Affordability
Amenities
Walkable community
Property taken care of
Would like to rent in same community they're in now
Are you including Baby Boomers?
If you're a real estate investor, don't make the mistake of only catering to the Millennial crowd. If you do, you're missing out on an opportunity to serve a huge population of Baby Boomers who would love to be your tenants!
The senior lifestyle
When you're scoping out properties to purchase for investments, keep in mind the factors that seniors desire. Look for the homes that are affordable and in safe neighborhoods that offer convenience. Are they near medical offices or grocery stores? Are they one or two stories?
Of course, don't forget about the Millennials too. Find a good balance between the two demographics and simply be conscious of the fact that both segments are hungry to find good rentals. There's no doubt within the next five years, the rental market will be flooded with Baby Boomers, and you'll certainly benefit if you include them in your demographics. In fact, this group is more predictable than the Millennials, and in the investment world, predictability matters.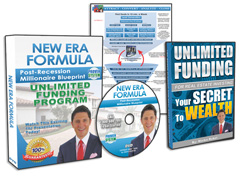 Request FREE Funding Kit and Discover How To Legally Bypass Banks And Gain Direct Access To "No-Credit-Required" Funding You Can Use To Achieve Your Financial Freedom... Start Now!