Why do most people wake up so early to go to work?  What makes some people take a second job or start a business while still in employment? The answer is easy; they are all looking to attain financial independence, stability and freedom.
Surprisingly, people have different views about this topic. Some feel that getting a higher paying job guarantees financial freedom. Others think that living a frugal life now is a prudent way to do away with financial worries after retirement.
As our financial circumstances are different, we cannot use only one method to attain financial independence. Instead, everyone should understand that getting financially stable is a process that might take months or years depending on their current financial status.  Although there are several ways to accomplish this goal, here are five steps we consider very important.
Step One: Make a conscious decision to prosper financially
The first thing to do if you want to achieve financial freedom is to make up your mind about it. Evaluate your personal finances by yourself and with the assistance of a financial expert. This will help you understand where you are now, where you want to be in the near future and how you should get there. Without taking responsibility, you could stay stuck where you are now even when the economy is showing progress. So, get very honest with yourself, start planning your financial future and act upon it.
Step Two:  Control your expenses
One reason why most people don't become financially independent despite earning a lot of money is their inability to live within their means. They spend more money than they make, forcing them to borrow money. Living a life you can afford may mean reshuffling every aspect of your monthly budget. Mostly, though, take a closer look at the kind of home you're living in and the vehicle you drive, and ask yourself if you can really afford it.
Step Three: Save money
The best way to accumulate wealth is to save at least 10 percent of your income. When you have savings, you can avoid borrowing when there is an emergency situation to solve. As well, you can start your investment plan when you have accumulated a good sum of savings. One thing to focus on when you want to start saving money is your housing costs. This entails your rent, monthly house loan fee, property taxes and insurance premiums, among other expenses.
If you are paying more than twenty-eight to thirty percent of your pretax income, revisit your budget.  Additionally, make sure your auto's total running expenditure is not more than ten percent of your gross income. Once you get your biggest expenses under control, it will be easier to leave money to save.
Step Four: Manage your debt
If you have a high-interest credit card debt right now, that will restrict you from reaching your financial independence goal. If you add other small loans to the equation, you will easily see why your financial situation could worsen with time. It is important to get rid of as much debt as possible, even if it takes using professional help. Debt attracts an interest rate that increases your overall debt. One way to avoid debt is to live within your means, including buying a mortgage you can comfortably pay for, not making impulse shopping choices, and so on.
Step Five: Invest your money
There are so many investment vehicles you can access. However, some of these options will be unfit for you. The best of all investment projects is buying a property, as real estate appreciates in value and you stand a chance to earn tax benefits. What's more, building or buying rental houses can create one more income stream that will forever be reliable.
To be financially free means you're not worried about your money situation. It means being able to do what you want, when you want it, without having to stretch your dollars or worry if you'll have enough till your next paycheck. To achieve this, you'll have to really discipline yourself and be consistent. However, financial independence is a goal that is well worth the effort!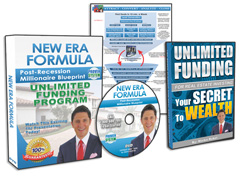 Request FREE Funding Kit and Discover How To Legally Bypass Banks And Gain Direct Access To "No-Credit-Required" Funding You Can Use To Achieve Your Financial Freedom... Start Now!