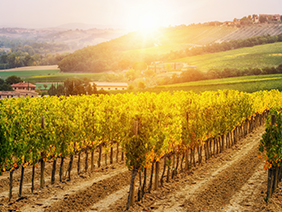 In real estate investing, as in any profession, it is important to make quality downtime a priority and even get away on vacation every now and then. Whether it is an overseas trip, staycation or a weekend trip to a nearby vacation spot, taking time to unwind is a great time to reflect and recharge. For wine enthusiasts, several places around the world are considered the best-of-the-best wine provinces for enjoying quality wines with gorgeous surroundings. So let's take a break from the grind and explore some of the world's best wine regions.
The majority of the world's wine is grown between Spain, Italy and, France, with the United States coming in fourth.
Alsace, France
France is home to some of the most prestigious wines in the world, with some of the more popular regions being Bordeaux, Provence, Champagne and, Burgundy. However, Alsace, while not as well known worldwide, is home to many vineyards producing mainly white wines. Located near the border of Germany, the wines reflect German varieties, like Gewurztraminer, but they are instead produced with a French flair. Alsace is well known for their world-renowned Dry Riesling, Pinot Blanc and, Pinot Gris.
Margaret River, Australia
Located in the Southwest area of Western Australia, Margaret River is three hours away from Perth. The area is not easily accessible, but it is worth it to take a detour and visit the coastal town with fantastic wines. The most widely harvested varieties are Chardonnay, Cabebet Sauvignon, Shiraz, Merlot, Sauvignon Blanc, and Semillon. With over 200 wineries in the region, the area is known for fine wines and a luxurious coastal lifestyle. Local producers enjoy exploring newer growing methods like organic, biodynamic farming and whole bunch fermentation.
Madrid, Spain
The capital of Spain, Madrid is home to historic architecture, artistic expression, nightlife, and several wine regions, also called Vinos de Madrid. The wines are known to be high quality with a lower price tag than some other wine regions in the country. With three areas in the vicinity,
there is a wide array of diversity in the wines offered. Some of the popular varieties include Cabernet Sauvignon, Merlot, Moscatel, Viura, and Syrah.
Paso Robles, California
Situated on the Central Coast, just three hours in either direction to San Francisco or Los Angeles, the wines are just as good as some of the more famous wine regions on the West Coast, at a much more affordable price. Wine enthusiasts from all over the world visit this vibrant area with rolling hills, charming shops, restaurants, and located less than a half-an-hour from the Pacific Ocean. The area has been producing wine for more than 100-years and is currently home to more than 200 wineries and upward of 40,000-acres of vineyards. The most popular varieties include Zinfandel, Cabernet, Cal-Italians and several innovative blends that are specific to the area.
If you would rather travel to a relaxing, luxurious and tropical and vacation spot, Bali can be an alternative locale. Regardless of your destination, it is essential to take the time to unwind, recharge and enjoy some of the finer things in life.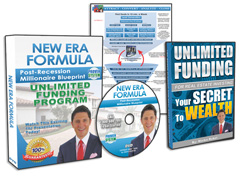 Request FREE Funding Kit and Discover How To Legally Bypass Banks And Gain Direct Access To "No-Credit-Required" Funding You Can Use To Achieve Your Financial Freedom... Start Now!