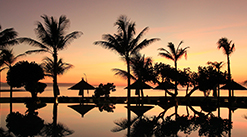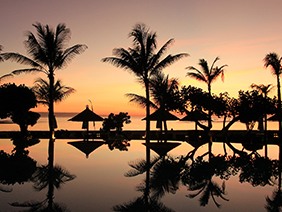 Bali is one of the most desired vacation locations in the world. Known for its magical landscape, mystical temples, exotic feel, gorgeous beaches, and cultural treasures, Bali is a one-of-a-kind destination. If you've had Bali on your mind for a while now, don't you think it's time to invest in a dream vacation such as this?
Most people that come back from Bali say that the experience has changed their lives forever. The laid-back culture, genuine hospitality, the mystical feel of the exotic jungles, fine art, exquisite beauty – essentially heaven on earth – can leave you feeling deeply refreshed, revived, and happier.
You should enjoy the fruits of your labor, and traveling is one way to enjoy your life. So, if Bali is on your heart, then maybe it's time to start planning your next worthwhile vacation. To help you out, here are some pretty amazing cultural gems you must see while you're there.
1.  Tana Lot Temple – Here is an ancient Hindu shrine on a dramatic setting right there off the beach. It's probably Bali's most famous temple comprised of a rock formation that was formed by a 15th-century Hindu priest. No doubt you can enjoy a stunning sunset from this temple.
2.  Uluwatu Temple – In the southwestern Bukit peninsula, you'll find the Uluwatu Temple right on the edge of a cliff about 70 meters above sea level. This spiritual pillar is known to have plenty of monkeys hanging around, which visitors love to see. Every evening, a Kecak or Balinese dance is performed to entertain those who come to visit. Enjoy a gorgeous sunset while watching the dramatic dance.
3.  Ubud Monkey Forest – The Ubud Monkey Forest is a must-see in the village of Padangtegal, Bali, as tons of macaque monkeys call the forest home. You'll see them swinging from vines, lounging around eating bananas, and perhaps stealing small items like necklaces from visitors. You'll also see gorgeous ancient temples with giant statues that are covered in moss; so beautiful they may take your breath away. Not far from the monkey forest, you can check out the Ubud Royal Palace and Ubud Art Market.
4.  Ubud Art Market – You'll find many affordable treasures at the Ubud Art Market, from handmade bags, handcrafted jewelry, Balinese artwork, batik clothing and scarves, and more.
5.  Tegallalang Rice Terraces – Bali has some unforgettable rice fields, like the Tegallalang Rice Terrace in Ubud. Along with the rice pads, you'll see plenty of artists selling their wares, as well as quaint restaurants offering great food and views of the rice paddies.
6.  Goa Gajah 'Elephant Cave' – Here's a historical archaeological site that you won't forget. The Goa Gajah 'Elephant Cave' is in Bedulu Village, just outside of Ubud. You'll enjoy exploring the cave with its bathing pools, carvings on the cave's walls, and magnificent fountains.
7.  Bali Safari & Marine Park – Here you'll enjoy the largest animal theme park in Bali, with more than 60 animal species. Hop on a tour bus and go on a wonderful safari 'around the world' seeing elephants, baby orangutans, and much more.
These are but a tip of the iceberg when it comes to amazing things to see and do in Bali. There's no doubt you'll make memories that will last a lifetime and come back feeling like a brand-new person – relaxed, refreshed, and more at peace with yourself and the world.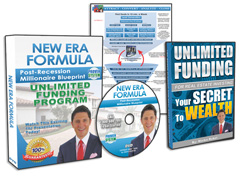 Request FREE Funding Kit and Discover How To Legally Bypass Banks And Gain Direct Access To "No-Credit-Required" Funding You Can Use To Achieve Your Financial Freedom... Start Now!