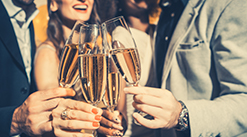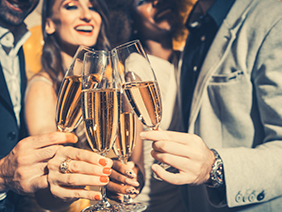 You did it! Your dedication, strong work ethic, persistence, self-discipline, creativity, and determination resulted in a big win; an investment deal that is sure to expand your portfolio and set you up for more profitable investments in the future. Sometimes great deals like this happen quickly, and other times they require a lot of time and commitment to come to fruition finally. Regardless of how long it took, this successful investment deserves to a celebration! Some people prefer to go all out and throw a big celebratory bash, while others prefer to keep it quiet and share the good news with a few close friends. Here are a few ways to celebrate this significant accomplishment:
For A Low-Key Celebration
If you're not typically the type to shout your achievements from the rooftops but still want to celebrate the hard work you put into this investment deal, there are some subtle ways to reward yourself for a job well done.
Call a few friends or family and share the good news
A phone call, a Facetime session or even a post on social media is an easy way to share your good news with the people who mean the most to you. Most of your closest friends will understand what a big deal this is and want to be part of celebrating your success.
Take your family out to eat at a restaurant you've been dying to try
Is there a steakhouse or fine-dining restaurant in town that you've meant to try? Or have you wanted to take your family to the cool new Mexican place everyone is raving about? Take your family out to dinner to celebrate this milestone.
Thank someone who helped you reach this goal
Take a minute to write a letter or email to a mentor or someone who helped you achieve your goal. Real estate investing is about connecting with people, and it's important to acknowledge and appreciate the people who helped you reach your goals.
Offer to help someone who is trying to reach their goals
Chances are, there have been many people along your real estate investment journey who have helped make this major accomplishment possible. If you know someone who is new to the game, think of a way to give back and help them reach their goals. Giving back can be a great way to celebrate your success.
For A More Exciting Way To Celebrate
Plan a staycation
You don't have to plan an extravagant trip to celebrate your recent investment deal, (although you could!) Plan a staycation in a city or town near you that you've never been. Even if it means taking a short flight or planning a road trip, you can get away and discover a brand new place without leaving your state. Check out luxury hotels and spas near you, experience a popular campground, or rent an Airbnb on the lake/by the beach/in the mountains.
Go on a shopping spree
Whether you want to upgrade your wardrobe or buy new equipment for your favorite hobby, a shopping spree is a fun way to reward all of your hard work and your success. Whether you want to hit your favorite boutiques or want to sit around in your PJs and buy stuff off of Amazon all day, don't feel guilty for splurging!
Buy the new gadget you've had your eye on
Maybe you don't need new clothes or hobby equipment. Perhaps there is a high-tech gadget you've had your eye on. This investment deal may be the perfect reason to buy that phone, watch, TV, new camera, computer or gaming system that you just have to have.
Host a dinner party
If you'd instead share your success with friends and family, hosting a dinner party or event at your home is a fun way to get everyone together. Hire a caterer or private chef, get a DJ, pick a theme and decorate accordingly. If you'd rather not have everyone over, rent out a party space or section of a restaurant so you can have privacy and intimacy without dealing with the setup and clean up.
Pamper yourself
If some "me-time" sounds like your idea of a celebration, schedule a day to pamper yourself. Whether you schedule a massage, a haircut, or plan an entire spa day, some quiet time where you focus on yourself and do some relaxing and self-reflecting can be a much-needed way to revel in your accomplishments.
Going All Out
Plan your dream vacation
If this investment deal was more significant than big, it requires a trip of a lifetime. Plan a trip to a place you've never been like Bali or Bora Bora. Hire a private plane to get there in style, stay in a luxury hotel or rent out a private home. Say "yes" to the upgrades, extend your trip for longer than you usually would, plan excursions you've always wanted to try. Hire help to make meals, transportation, and trip planning easier. With all of the time, effort and work you put into making this investment deal happen, a trip of a lifetime is well-deserved.
Splurge on experiences
Have a favorite band or sports team that you enjoy seeing live? Splurge on the best seats, the VIP packages, and the upgrades to improve your experience. Get front row seats and backstage tours for your favorite band or schedule a meet and greet with your favorite athletes. Take an experience that you love and take it up a notch in honor of your success.
Hire an assistant
If you are going to continue to get big deals like this, you may need to hire someone to help make your life easier. You don't have to work harder, just smarter. Hire an assistant to take over the tasks you don't love, to keep you organize and to gift you with more free time. As your real estate investment career continues to grow, an assistant is a luxury that will help you be more productive but less overwhelmed.
This investment deal is a game changer and deserves to be celebrated. Don't feel bad about doing a little bragging and treating yourself for reaching your goals. Celebrate this investment deal in whatever way makes you feel most comfortable and don't feel guilty about it. Your hard work has paid off, and whether you want to celebrate at dinner with a few close friends or you want to buy a yacht, your hard work is absolutely worth celebrating.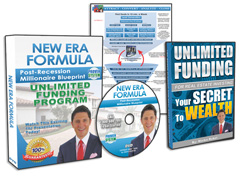 Request FREE Funding Kit and Discover How To Legally Bypass Banks And Gain Direct Access To "No-Credit-Required" Funding You Can Use To Achieve Your Financial Freedom... Start Now!