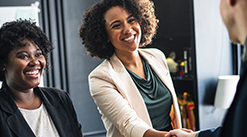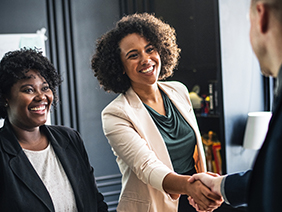 To maximize your possibility of a successful outcome in any area of your life, it's important to choose your words carefully. Words are powerful and when you can use them to steer people in the direction you're after, you'll find yourself landing more appointment AND more deals.
How You Address Motivated Sellers
In my courses and workshops, I spend a good bit of time teaching people how to converse with motivated sellers. I understand the way some words can help you build momentum, and some words may cause others to put up a fence around their heart. You want to use words that will help the sellers want to take action. You want to pay attention to how the words you're using are causing the sellers to feel. You'd be surprised how just a few key words can cause a seller to desire to do business with you.
As you move forward making appointments with motivated sellers, pay attention to what I'm going to share with you concerning words to use and words to avoid. As you do, you'll get better appointment results, a potentially more deals too.
Avoid Asking Why?
Avoid using the word "why" when you're conversing with a motivated seller. You may generally want to know the reason why, but sometimes asking this question can cause someone to feel as if you're questioning their intelligence. Rather than ask them "why", ask them "how". For example, instead of saying, "Why have you priced your house so far above others in the neighborhood?", ask them, "How did you come up with the price that you wanted to sell your home for?"
As you can see, when you ask them the "why" question, it could make them defensive or feel like you're attacking their intelligence. But when you ask them "how" they came up with that number, you come across as sincerer and allow the seller to share with you essentially how they came up with that number.
Don't Use The Word "But"
If you're talking to a seller about something, and then use the word "but", that tends to negate everything you said before that. Surely, you've been in conversations in your life where you did not like to hear that word "but". (I'd like to date you, but…. I'd like to offer you the job, but….)
So, rather than say "but", use the word "and". For example, instead of saying, "I'd really love to purchase your home for that price, but….", say, "I know you really want to sell this house as fast as possible, "and" here's what needs to happen for that to occur. You see the "and" is a connecting word and it doesn't negate anything you said before that. It comes across as positive to the seller.
Avoid Saying "Might"
It's also a good idea to refrain from using the word "might", because it is not a powerful word. Rather, it's a weak word and can cause you to come across as indecisive or lacking assertiveness. For example, instead of saying something like, "Do you think we might be able to talk tomorrow?" say, "Let's meet tomorrow at a time that works for the both of us." The latter sentence is direct and shows initiative and assertiveness. It also shows confidence, which can go a long way when you are talking to sellers who want to sell their property ASAP.
Avoid The Word "If"
Do your best not to use the word "if", as this is another word that can point to you as being doubtful or lacking confidence. Rather than use the word "if", use the word "when". For example, if talking to a motivated seller about getting the contract signed, rather than say, "If you decide to work with me", say "When you decide to work with me".
Do you see the difference in that latter statement? You are using one simple word that can subconsciously affect that seller in a big way, in a way that benefits both of you.
Even if you're a newbie investor, you can come across as more confident when you use power words. Keep these tips in mind as you make appointments with sellers and meet with them face to face. Remember that you are a problem solver for those sellers, and your business is a service that can benefit them greatly.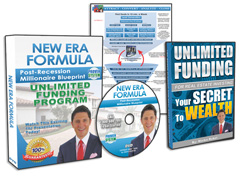 Request FREE Funding Kit and Discover How To Legally Bypass Banks And Gain Direct Access To "No-Credit-Required" Funding You Can Use To Achieve Your Financial Freedom... Start Now!