Some of my students have asked me if they should bother buying auction properties. Maybe they've lasered in on a particular home and have sent direct mailings to no avail. The home ends up at a bank auction and they wonder if they should go ahead and purchase the home at the auction.
Now, if you really like the house and you know the condition or how much repair it may need, then you can pull a title search, so you know what lien you're bidding on and go for it.
However, you'll need cash to purchase the home and you'll probably need it within 30 days of the auction date. Then, when you go to sell the home, the buyers will need their own financing. Now that's not really the type of business we do, because we know the majority of people aren't able to secure their own financing.
So, you need to ask yourself:
Do I really want to do this?
Do I have the cash now?
Do I want to take the risk of wasting time trying to find buyers who have financing in place?
Sure, you can get great deals at auctions, but you may also face some challenges. For example, you can't get into the home before the auction, so you really have no idea if it's got major repairs or structural issues. Do you know how many people trash their home when they know it's being foreclosed upon?
Plenty.
You can certainly walk around the home and see how the exterior looks, and if no one lives there, you could peek through the windows, but you won't know for sure the extent of any damage or structural issues.
This can be pretty risky.
I advise my students to pass by on auction homes and continue their marketing efforts on other homes. Keep going on appointments and practicing your presentation on the phone and in person. There are plenty of homes out there and plenty of highly motivated sellers, so stick with my teachings and target those.
I'm not saying buying auction homes isn't a valid way to build your property investing portfolio, because it can be. But if you're interested in learning strategic investing approaches that bypass the banks or the usual "fixing and flipping" scenario, my team is among the most qualified to teach you. We're here to help novice and seasoned investors achieve the kind of lifestyle that makes their wildest dreams come true.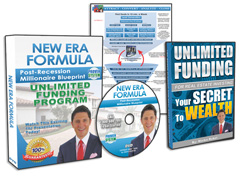 Request FREE Funding Kit and Discover How To Legally Bypass Banks And Gain Direct Access To "No-Credit-Required" Funding You Can Use To Achieve Your Financial Freedom... Start Now!