As you work toward success in any area of life, your mindset is going to be the most important ingredient. By mindset, I mean how your mind predominantly thinks.  For example, do you have a growth mindset or a lax mindset? Are you more of an optimist or pessimist?  Do you believe you can overcome obstacles or are you afraid of them?
Successful men and women have some common characteristics, and one of them is having a growth mindset. This means that they understand and embrace characteristics like discipline, perseverance, motivation, goal-setting, growth, problem solving, and personal development.
Strategies for improving your mindset
Good news is that no matter what your mindset is right now, there are tips and keys for improving it.  When you're open minded and motivated to learn, you'd be surprised at how much positive change you can foster in your life.
To be successful in the real estate investing niche, you've got to cultivate a mindset that is strong, resilient, confident, optimistic, and fun.  After all, all work and no play makes for an unbalanced life that may cause you to end up miserable and burned out.
Keep the following tips in mind as you commit to cultivating a success mindset:
Embrace perseverance
Perseverance is a characteristic necessary for success.  This goes for both your business and personal life.  For example, if you want to create a million-dollar business, you're going to run into some obstacles. You might even make some mistakes.  Are you going to freak out and throw in the towel? Will you allow your mindset to take a dive, calling yourself all sorts of negative names?
No, you're not going to do that. You're going to get up, dust yourself off, learn from the experience, and keep it moving. You're going to persevere. You're not going to stop until you get that "yes" or that deal or that six figures a year, or whatever goal you're going after. Perseverance matters.
Get determined
To be successful, determination is key.  To be determined is to have resolve. It's purposely doing something despite fear or obstacles that come. In the real estate investing business that we do, it takes determination because it's not the conventional way to invest.  It's creative and unique.  You might run into people who don't get it and try to talk you out of it. You may run into prospective clients or a title company who tells you no because they don't understand.  What are you going to do? Give up?
No. You're going to allow determination to keep you moving to the next potential client or the next title company that would love to assist you. Remember this mindset as you move forward:
SW – SW – SW – SW
That means:
Some Will, Some Won't, So What? Someone's Waiting
There's your determination to keep it moving. Not everyone's going to jump on board, but you know what? Some will, so just keep getting out there and doing what you love, building your wealth along the way.
Keep learning
Those who achieve success embrace learning. They are open to learning new things personally and professionally and applying what they learn to every day life. Are you teachable? Are you applying what you learn to your personal and business life?
My passion and purpose in life is to not only foster my own path to success, but to inspire others to get there too.  It gives me great joy to invest in students all over the world who are willing to cultivate a mindset that attracts success, because that's where it starts – willingness.
We live in a land of great opportunity, so take the opportunity to consistently improve your mindset in ways that resonate with you, and just watch how your life gravitates toward success.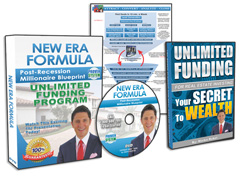 Request FREE Funding Kit and Discover How To Legally Bypass Banks And Gain Direct Access To "No-Credit-Required" Funding You Can Use To Achieve Your Financial Freedom... Start Now!