If you're a real estate investor, you're probably familiar with doing a rental analysis before you make an offer on a property. You know you've got to take into consideration things like the mortgage, taxes, maintenance, insurance, and reserve funds.  When you crunch the numbers, if you're left with between 6 and 8 percent profit, you know the property could very well be a great investment.
Now some investors will go into a deal only considering those numbers and that could end up hurting them in the long run. Why? Because there are some cash flow killers that aren't as well known as the categories above. And, if you're not aware of them, you could find yourself experiencing less profit year after year.
Here are some cash flow killers to be on guard against as you continue to your property investment career:
Insurance that doesn't fit your needs
Some investors choose a standard homeowner's insurance policy, but property investments need a different type of insurance. As a landlord, you need a landlord policy that will cover natural disasters. There are some landlords who experienced flooding in the South and lost homes in the wildfires in California who did not have the correct type of home insurance.  This cost them a lot of money. Therefore, having the right type of insurance policy that covers damage to property, liability, floods, and lost rent if the home cannot be inhabited is essential if you're a property investor. Be sure you discuss the various types of landlord policies with a qualified insurance agent.
High vacancy
Be sure that you factor in vacancy when you're crunching numbers. You may think you'll never have an empty unit, but that's not realistic. However, there are things you can do to increase the chances that your unit will be filled with tenants long-term, such as providing superior service and keeping the unit in good condition. In doing so, your vacancy rate is not apt to be a cash flow killer.
Unreliable property management
If you use a property manager, be sure to do your homework before hiring one. If you end up with an unreliable or bad one, you could suffer cash flow problems.  For example, if your property manager is rude with your tenants or takes forever to get to maintenance repairs, that can increase your vacancy rate.  Overcharging you for repairs can be a cash flow killer as well.  Therefore, it's essential that you research management before hiring. Check reviews, ask for referrals, meet in person, have a list of questions, and be sure your property management agreement is clearly defined before both parties' sign.
Bad tenants
Bad tenants can be a huge cash flow killer. Granted, you can't win them all, but there are plenty of things you can do before you allow tenants to take possession of your rental property. Be sure you use some sort of screening measure on each potential tenant. Whether it's you or your property manager, invest in quality screening reports. If you simply go with your gut instinct, you could end up losing money because not everyone is as honest or trustworthy as they portray. Run their credit report, check for evictions, criminal background, and so on. The small fee that you are required to pay is well worth it, especially if it keeps you from renting to those who could become your worst tenant nightmare.
Conclusion
Crunching the numbers before making an offer on a rental property is essential, but don't forget to take into consideration the cash flow killers mentioned here. Do your best to limit vacancy, provide excellent property management, screen potential tenants, and have the right insurance for the property. Add all these factors up and you'll be more apt to smile month after month when you're seeing a great ROI in action.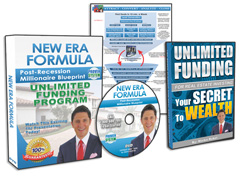 Request FREE Funding Kit and Discover How To Legally Bypass Banks And Gain Direct Access To "No-Credit-Required" Funding You Can Use To Achieve Your Financial Freedom... Start Now!