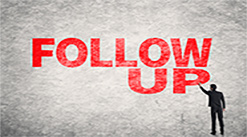 How long does it take you to give up on a prospect? Two phone calls? Three calls and a few emails? Maybe you gave up the very first time they said no.
The fact is that the vast majority of real estate investors would be more successful, if only they had better follow-up skills.
Following up is the most important tactic of the entire negotiation process. And, not every negotiation necessarily has to be a sales transaction. Relationships with all kinds of people in the real estate industry require maintenance and check-ins every once in a while. Even if you close a deal on the very first conversation, your following appointment is still incredibly important.
Any time you are working with other people, you will need to strategize every follow up in order to achieve your desired results. This skill involves three basics:
Persistence
The first trait is important because so many entrepreneurs and real estate investors give up on themselves too early in the negotiations.
By keeping a calendar and notes of who you've kept up with recently, and what you talked about, you can effectively follow up with them as many times as is necessary to reach a definitive decision.
Before you get off the phone with someone, schedule your next call in advance. That way, the client can be prepared with some kind of answer, and you'll have the green light to follow up. Most good clients and partners will appreciate someone who stays persistent, even if they didn't win at first.
Caring
If you do it right, your persistent checkups with clients will make them feel like you really care about their needs. Build rapport with them rather than blowing through the details hastily.
Keeping a positive tone, remembering and asking about personal details such as their family or interests, and expressing appreciation for their business or consideration are all ways that you can connect with people on a deeper level to let them know that they are more than just a transaction to you.
Consistency
When you connect with someone for a follow-up, you should try to make them feel like your last conversation never ended. Build friendly rapport and then pick up exactly where you left off.
If you ended your last call letting the person know their next steps, then you should ask about each of those immediately during your subsequent call. Assess their readiness to close the deal by their dedication to the process.
Having good follow-up skills will allow you to close deals and sell properties more quickly, while also making you appear polished, professional, and in control of any situation.
Don't give up on difficult deals. Next time, use the power of the follow up until you get a final answer. Trust me – it will make you a more skilled and more efficient real estate investor!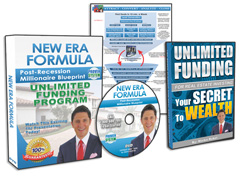 Request FREE Funding Kit and Discover How To Legally Bypass Banks And Gain Direct Access To "No-Credit-Required" Funding You Can Use To Achieve Your Financial Freedom... Start Now!