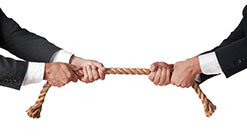 Investing in real estate of any type is a give and take process. The process begins when a buyer submits his or her first sincere offer to purchase a place. Most often that offer is met with a counter offer and the game is afoot. Negotiations continue in this manner until a "meeting of the minds" comes about in terms of a satisfactory selling price, or negotiations break off because the buyer's number and the seller's number remains too far apart. When buying real estate, price along with terms and conditions determine whether or not a deal gets done. Armed with the proper techniques, any buyer regardless of prior experience in this game can pull off the deal of a lifetime. What it all boils down to is know-how. What follows is a summary of the four most effective tips for successfully negotiating any kind of real estate deal.
Purchasing Power is Negotiating Power: Get Yourself Pre-Qualified for Financing
In the real estate game, everybody wants to deal with the guy who can close quickly, and that person has real power. For this reason, it is exceedingly important that you visit with a mortgage lender to discover how much financing you qualify for before you make your first offer. Failure to do this will subject you to second-class status when the time comes for the seller to sort out his or her best offers. Standing apart from the rest means that you are ready, willing and able to close quickly when a deal is finally struck. By no means is that always the one who tendered the highest bid. Often, it is the one who was taken most seriously by the seller. Getting yourself pre-qualified for mortgage financing is as simple as contacting a mortgage lender or broker and letting them check your credit and a few of your personal financial details. When you obtain your pre-approval, you will be armed with a letter from the lender establishing your credentials as a buyer. In the eyes of the folks on the seller's side of the table, this letter is gold. All reasonable offers that you tender will at least be given due consideration. The best part about pre-qualification is that it sets a maximum price that you can realistically afford to pay for a property. You can use that as leverage when you submit your bids.
Have Your Attorney Insert Escape Clauses in Your Contracts
Most residential real estate changes hands with the assistance of real estate brokers and agents. Almost all broker-assisted real estate transactions are closed using agency generated contracts. Such contracts generally favor sellers. You do not need to be put at any disadvantage because of this however. You are entitled to legal representation, and your attorney will be given a period of time to examine your contract of sale. He will also be given an opportunity to add or delete certain terms and conditions of the sale. These contract conditions and clauses are part of the negotiation process and are subject to the approval of the other side. At this point in the process it is vitally important that you have your attorney include sufficient escape clauses that let you out of the deal without penalty should that become necessary. One can never know what will happen during the period of time a property is under contract. One such "out" is the mortgage contingency clause which is standard in most residential real estate contracts. If for whatever reason, the mortgage loan does not go through, the deal is cancelled. To be completely safe, you want your attorney to craft one or two more such "outs" before you sign on that dotted line.
Don't Submit "Low-Ball" Bids
Buyers that tender offers to buy property with bids well below published asking prices tend to make bad first impressions. They are frequently seen by industry insiders as insincere time-wasters. If there is a property that really interests you, it is best not to make your opening move something the seller will forever remember as a negative or insulting gesture. A superior strategy is to make a fair offer that is subject to a professional price evaluation or appraisal. If the appraiser establishes a value that is at variance with the seller's offer price, you have real leverage in further negotiations.
If You Can't Get Your Price, Ask for Something Else
When negotiating any real estate deal, it is important to remember that price is just one part of the transaction. One other important part includes the terms and conditions. When you can't get your price, be creative. Ask for more favorable terms and conditions. When you can't get the terms you want, then ask for a better price. Using this tactic, you can keep negotiations open longer and you keep things moving. You may just loosen up the other side enough to get them thinking about the many interesting trade-offs that are available to them. The master negotiator is he who is capable of submitting many different versions of their original offer — all of them compelling and all of them featuring different combinations of price, terms and conditions.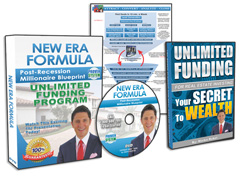 Request FREE Funding Kit and Discover How To Legally Bypass Banks And Gain Direct Access To "No-Credit-Required" Funding You Can Use To Achieve Your Financial Freedom... Start Now!