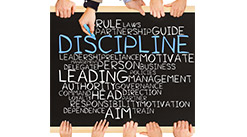 I am confident that everyone reading this article desires a fulfilled life. To develop the full potential of who we are as human beings, as business owners, as real estate investors, etc. It is said that if you love learning, you will love the discipline that goes with it. Conversely, it is said that the reward of an undisciplined life is death. Pretty powerful, wouldn't you agree?
How is it that we "learn to love discipline?" Let's take the three key words in the phrase "Learn to Love Discipline" and break them down. You have Learn/Love/Discipline. As we examine each of these words separately, the lesson will become evident.
Learn
Successful entrepreneur and well-known speaker Jeff Cobb says this about learning: "Learning is the lifelong process of transforming information and experience into knowledge, skills, behaviors, and attitudes. It does not require a degree, certificate, or grade to prove its worth. It does require activities like practice, reflection, interaction with the environment and social interaction.    
So to Learn is the process of transforming information and experience into the "next step."
Love
There are many definitions of love. However, the only way to truly understand it is when it is translated into an action word. Love is always a representation of an act. Here's proof. If you say, "I love…(fill in the blank)," without actually doing something to show it, that is not the definition of love. Just because you say it does not mean you are living out its definition. At the most basic definition of a feeling or desire, that feeling or desire still requires us to demonstrate it in the form of action.
So to Love is to express, through action, our gratitude for something or someone.
Discipline
Many of us have been conditioned to associate punishment with discipline and we have allowed our irrational mind to turn a positive experience into a negative one. Here's a different perspective. The Free Dictionary defines discipline as "training expected to produce a specific character or pattern of behavior…" If the only way we could get expected results in life was through the acquisition of discipline, wouldn't we pursue it? I believe it is logical to define the pursuit of discipline as the pursuit of results.
So Discipline is the training required to produce expected results.
Let's now combine all three key words along with the definition of each.
Learn to Love Discipline means, "the process of transforming information and experience as it becomes evident in the expression of our action to show gratitude towards the training received to produce expected results."
As a fellow real estate investor, I encourage you to begin or continue on the journey of discipline required to achieve the lifestyle you and your family deserve by attending one of my live trainings. Take advantage of the personal coaching/mentoring programs available to you, and surround yourself with like-minded individuals who have learned to love discipline and who have let it create their vision of what they are accomplishing in their lives.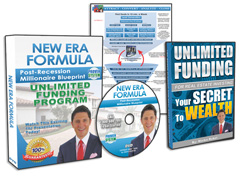 Request FREE Funding Kit and Discover How To Legally Bypass Banks And Gain Direct Access To "No-Credit-Required" Funding You Can Use To Achieve Your Financial Freedom... Start Now!