There's nothing wrong with living an ordinary life, but living an extraordinary life tends to be much more exciting. It's like an adventure. You don't just settle for what's right in front of you. You get out there and you explore and navigate different areas, oftentimes having remarkable experiences.  How can you have an extraordinary life?  Let's look at some key factors.
Change your mindset
To live an extraordinary life, your mindset must line up with your goals. Are you primarily a positive, optimistic person, or do you allow negativity to breed in your mind? Learning how to remain positive and believe for the best will suit you well.  To change your mindset, begin reciting positive affirmations daily and check in with yourself each day. Monitor your thoughts to be sure that you're on the right path and making choices that put you on the path to extraordinary living.
Be open and allow
You say you want to live an extraordinary life, but are you willing to be open and allow such to occur? Do you feel worthy to receive the good things that will come your way? Can you honor yourself and the gifts and talents you've been given?  Make a commitment to be open and allow goodness to flow into your life, as this is necessary for living an extraordinary life.
Feel as if
If you want an extraordinary life in every way, feel as if you already have it.  Feel the peace, joy, excitement, and passion as if you're already living such a life. Being positive and confident has a way of attracting other people to you. People enjoy being around others who are confident and uplifting. This may lead you to more positive interactions and talking to people you wouldn't normally talk to and this will open you up to more opportunities.
Go after new things
Be willing to go after new things in life, whether it's a new career, relationship, location, and so on. You don't have to settle either, as going for an extraordinary life means taking some calculated risks and going for more than the ordinary.
Ditch the naysayers
If you've got acquaintances or friends that bring you down by their negativity, spend as little time with them as possible.  They're negative outlook can really bring you down and cause you to settle for less than your best.
Expect the great to show up
Have wonderful expectations about how your days will go. Believe for big things. Believe for MORE than the ordinary each day. Keep your eyes open for the opportunities that may present themselves in your day to day and capitalize on them.
Be proactive
To live an extraordinary life, you must be proactive. Yes, believing for a marvelous life is important, but taking action steps toward such is just as important.  What are you doing to ensure that your life is extraordinary?  Get clear about your goals, create an action plan, and get some momentum going.
As you follow these tips, you're sure to get yourself on the road to living an extraordinary life.  You deserve to have the things you want in life, give yourself full permission to jump start such a life today.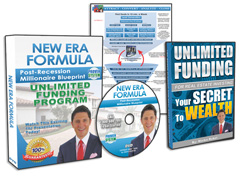 Request FREE Funding Kit and Discover How To Legally Bypass Banks And Gain Direct Access To "No-Credit-Required" Funding You Can Use To Achieve Your Financial Freedom... Start Now!