If you haven't taken advantage of Craigslist to discover motivated sellers, it's time to get moving.  Gone are the days of scouring newspaper ads trying to find amazing home deals, as most people are now taking advantage of free classified listings on Craigslist.
What is Craigslist?
Craigslist is essentially a free online classified portal, where people post so many things.  You can find everything from vehicles to garage sales to homes for sale – and much more!
As a property investor using my Niche2Wealth strategy, you want to find motivated sellers and Craigslist is a wonderful way to find them. Today, I want to share with you a few tips on how you can use Craigslist to get your next property deal!
Do a search for motivated sellers
The easiest way to navigate Craigslist is to do a search in your local area (or the area you're interested in) for homes for sale.  For example, if you live in Houston, look to the "housing" section and then click on "real estate for sale". Then, look for the search bar at the top of the page and type in "Houston" and press "search". Scroll through the listings and take note of the ones you may be interested in.
You can automate this for your desired location and Craigslist will email you when your keywords are listed in the housing category.
Post your own ad
If you don't want to wait for emails or get on Craigslist each day to check on houses, you can post your own ad under the housing category stating that you're seeking a home to purchase. Now be sure that your ad is professional and catchy. You want to use a heading that screams, "I want to buy YOUR home now!" If you're not the best at wording ads, hire someone to write several ads for you and use them.
Look for landlords
Some people have success searching for landlords that post their properties on Craigslist. Granted, many of them aren't interested in selling their rental properties, but you'd be surprised at how many are considering it.  Give them a call and have a conversation letting them know you're interested in taking the rental off their hands if they're ready to let it go.  At the very least, if they aren't interested in selling, you've made contact with a local investor that could prove valuable down the road.
Craigslist truly is a resource that you ought to become familiar with as a property investor.  It's user friendly and completely free, so get on there and start navigating today.  Create an account and get to listing your ads and checking out what's listed. It's a great way to find motivated sellers.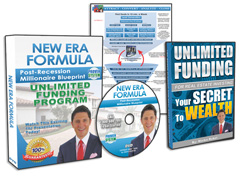 Request FREE Funding Kit and Discover How To Legally Bypass Banks And Gain Direct Access To "No-Credit-Required" Funding You Can Use To Achieve Your Financial Freedom... Start Now!