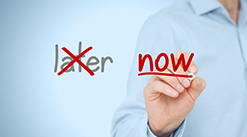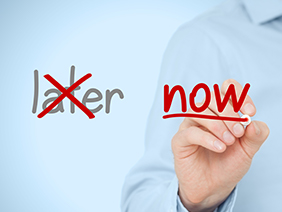 Chances are you already know if you're a procrastinator or not. Good news is that you CAN beat procrastination once and for all!
If you tend to put things off until the last minute, you may not be experiencing the amount of success personally and professionally as you could. Certain habits and attitudes can lead people to procrastinate, and those attitudes don't really prompt you to reach for your highest potential.
What is your attitude?
Now, whether or not you're going to continue to be a procrastinator or not starts with your attitude. What is your general attitude toward completing tasks or projects? For right now, let's think about business. Sure, there are some tasks that you simply might not care to do in your business, but are you putting them off? If you are, why are you putting them off? Is it just because you don't like doing that task? Is it because you're lazy? Don't know how to get it done? Get to the bottom of why you're procrastinating.
Fear vs. faith
Sometimes the reason people procrastinate is because they're afraid of something. They may fear that they cannot perform the task adequately or fear failing completely.
Rest assured that many successful people have failed over and over again in certain tasks in their lives. Some failed tests, college courses, some lost businesses, some went bankrupt, some didn't get their dream job the first or second or third time they tried. The point is that you may not perform a task adequately, or you may not get every contract signed, but that should not stop you from trying.
Learn to be more confident by reciting positive affirmations, such as:
I am confident, secure, and believe in myself.
I can accomplish any goal that I have by taking action and being persistent.
I can get my work done on time.
I am successful and motivated to continue my journey of success.
You can come up with your own affirmations as well. Don't be afraid of failure or rejection, as it sometimes happens in life. You can simply learn from the experience and keep right on going.
Steps to complete a task
Regardless of what your task is, there are steps that you can take to resist procrastinating and get it done. First, know exactly what your task is. Second, divide that task into smaller components. Third, make it a priority. Fourth, plan your action steps and get busy pronto.
You can use this approach in your real estate investment career. Let's take marketing, for example. This is a task that you must continuously do in your real estate career. You want to market to your target audience, in order to get leads, in order to get deals. You can break this task down into smaller components, such as learning all about the market in your local area, figuring out what kind of marketing campaign or strategy want to use, where you want to get your leads from, and so on.
Then you can start creating your action steps, putting the applicable steps on the calendar so that you'll do certain things on certain days. This means that when the day comes, and you see your tasks on the calendar, that you make a commitment to get it done that day. Becoming a non-procrastinator means that you make a firm commit to doing the task that you set as a goal to achieve your goals, whether you feel like it or not.
This could mean calling FSBO ads on a certain day every week, and not putting it off. Or it could be committing to a certain number of hours of research and educating yourself in the real estate investment business every week. Or numerous other tasks that will help you get your business to the next level.
You don't have to continue to be a procrastinator. Make a firm commitment to do tasks and projects as soon as you can, with a good attitude. Just watch how your productivity and sense of accomplishment increases!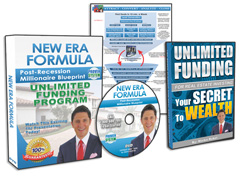 Request FREE Funding Kit and Discover How To Legally Bypass Banks And Gain Direct Access To "No-Credit-Required" Funding You Can Use To Achieve Your Financial Freedom... Start Now!