Computers sure have helped people become more proficient in many ways over the years. Remember the days when you had to track all your finances on a paper spreadsheet? Well, perhaps you're not old enough to remember those days, but those that do most likely really appreciate the way computers lighten their load with things like Excel or Google Spreadsheets.
Even better than these are the numerous personal finance software tools available online these days. If you're serious about building wealth, it's essential that you learn how to manage your money well. Whether you're just starting out or you've been in the finance-building phase for a while, taking advantage of personal finance software will prove to be beneficial.
Today, I want to share 4 personal finance tools that will help you as you continue to grow wealth.
If you're looking for one place to manage your money, Mint is a great choice. Favored by many, Mint is an online money management tool where you can link your bank accounts, loans, investments, and more. You can set up a budget and Mint will track your expenses.  You'll be able to get reminders for payments due, alerts when you've gone over your budget, have access to your credit score, and so much more. When you connect your money matters, you'll be able to see exactly what your net worth is at any time. Having such a tool at your fingertips is important as you grow wealth.  Rather than try to keep things in your head or just hope for the best, you'll have concrete digits that will let you know exactly how you're doing financially.
What if you don't really have much money right now? What if the money you do make falls through your fingers and you're left at the end of the month wondering where all your money went? If this sounds like you, check out Penny, an online tracking app that will let you know how much your spending and in what category. You'll be able to create a budget and Penny will help you analyze your spending habits. At the end of the month (or anytime), you'll have access to how much you've spent in various categories and change your behavior where necessary. This is a great free tool for you if you say you want to start tackling that debt or save money, but don't really follow through with it.
Personal Capital is a free online tool where you can track your net worth and if you're an investor, keep tabs on your investments. You simply link your financial accounts there, such as your checking and savings accounts, investments, retirement accounts, etc., and let Personal Capital paint a picture of how you're doing overall. There are graphs and charts that make it easy to see just how you're doing. They also offer excellent information, tips, a cash-flow analyzer, analysis, a net worth calculator, and more.
Paying off your debt is important as you continue to grow your wealth. The Pay Off Debt app is a helpful tool that will help you use the debt snowball concept to pay down your debt. Essentially, it helps you figure out what debt you should be tackling first, paying excess money toward that, and then when that debt is paid off, taking that payment and applying it to the next debt. This can be an effective way to pay down debt, while incurring the least amount of interest.
Using personal finance apps can really help you harness your focus on eliminating debt and building wealth. They say that where your attention goes, energy flows.  Focus your attention on building wealth, using whatever tools and apps you can. You're on your way to financial freedom, and that's honorable. Take some time to check out these online financial tools and see what ones may help you on your wealth-building journey.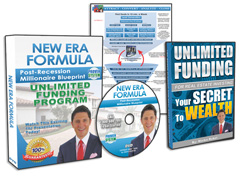 Request FREE Funding Kit and Discover How To Legally Bypass Banks And Gain Direct Access To "No-Credit-Required" Funding You Can Use To Achieve Your Financial Freedom... Start Now!