Bitcoin is a buzz word right now, and rightly so. When it comes to investing, it's the hottest topic right now.  The blockchain technology stands to make a big change in the real estate and banking world in coming years, so if you're not quite sure what bitcoin is, I want to share just a little bit about it here today.
Bitcoin is a cryptocurrency. It's part of a blockchain technology. Now, it's the type of technology that's going to bring major changes in the future. However, there's still some speculation about how Bitcoin itself will do because the currency is volatile and no one knows for sure just what its future holds.
Should you invest in bitcoin or real estate?
There are varying opinions on whether you should invest in real estate, bitcoin, or both. Those who are against investing in bitcoin will tell you their major concern is that bitcoin is a bubble. It's an "asset bubble" that has increased in appreciation significantly in a short amount of time, and the value of the currency is speculation.  That, in and of itself, may not turn out as proposed.
Others who warn about investing in bitcoin state that it's an asset that's not tangible. It's not backed by tangible value. There are so many variables that are unknown about the alternative currency – not to mention it's subject to theft. So, while it seems as if bitcoin is THE ticket to wealth, if it crumbles, investors have nothing tangible left.
Those in favor of investing in bitcoin state that because it's based on algorithms, math, and computation, it's better protected from fraud. The technology is an open-source system that anyone can access, which makes it more transparent. It also has a supply cap, which is helpful for the allowance of value increase over time, as demand increases. In addition, it's not susceptible to inflation.
Those in favor of real estate over bitcoin
There are plenty of people who favor real estate investing over bitcoin. One of the biggest reasons is because real estate is a tangible asset. Its value is backed up by something you can put your hands on – a shelter. People have been investing in real estate for many years, because owning land has proven to make people money.
Another pro for real estate is that real estate prices rise with inflation. Along with this, you've got cash flow and incredible tax benefits.
Overall, more people will look to real estate as an investment, as it tends to outperform the majority of asset classes in terms of risk and ROI. It's much safer than bitcoin thus far. Could bitcoin be a rewarding investment? Sure, that's possible, but it's also quite risky. Talk to investment legends like Warren Buffet and he'll tell you to steer clear of high risk investments. He'll tell you to diversify and stick to what time has proven profitable.
Bitcoin hasn't been around for long, so it doesn't have time on its side. Real estate, on the other hand, has been allowing investors to pocket cash month after month and year after year for centuries. If you're seeking to accumulate wealth over time, real estate may very well be your safest bet.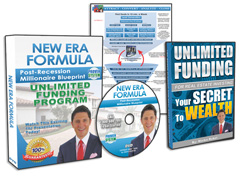 Request FREE Funding Kit and Discover How To Legally Bypass Banks And Gain Direct Access To "No-Credit-Required" Funding You Can Use To Achieve Your Financial Freedom... Start Now!