Whether you're buying or selling a home in 2018, it'll benefit you to know what kind of market you're up against.  Timing is always a factor in the real estate market, so getting the inside scoop from the real estate experts is certainly wise.
So, just what are the experts saying? Will the market better suit buyers or sellers?  The consensus is that because it's a seller's market, sellers will continue to get good prices for their homes due to lack of inventory.  In fact, a survey by Trulia shows 31% feel that this year will be better than last for sellers due to the lack of home inventory.  At the same time, survey says that only about 6% of homeowners actually plan on selling their homes this year.
Homes on the market will sell fast, many within a couple of weeks. This will cause home buyers to be on their toes when it comes to having their ducks in a row mortgage-wise when they find a home they love. Interest rates may creep up over the year, with some predicting a rate around 4.5% by the end of the year.
What about renters?
Many renters are having a tough time saving for a down payment, which means they're not actively seeking to purchase a home. This is good news for property investors or those in new construction. 2018 is likely to see a slight increase in renters, especially in major cities.  First-time home buyers are out there, but many of the homes for sale are simply out of their budget.  This segment will be a great niche for real estate investors to focus on.
Millennial renters will most likely stay in the cities, but some are venturing out to the suburbs, choosing suburbs that tend to have a city feel. They prefer small suburbs where they can still get around on foot, bike, or cab. If you are a renter, you may have plenty of options and incentives, including free rent for a month or more in some places. If you're an investor and you're seeking tenants, you shouldn't have much problem finding good tenants.
What about new construction?
There won't be a ton of new inventory coming into the market this year. In fact, new construction has been lacking since the Great Recession, and many builders who are building are focusing on multi-family housing. This leaves potential home buyers with less choices. In addition, developers are building smaller units, so they can increase their revenue, and though residents aren't thrilled about reducing their carbon footprint, they're adjusting.
What about taxes?
The tax plan is likely to affect the housing market in certain areas, as collective and local tax deductions are currently limited to $10,000.  This means that in states that have high property values and taxes now could see their tax bills increase quite a bit.
Generally speaking, the market will not see significant changes in 2018. Keep an eye on your local market, as sometimes local markets will not be affected by national trends. Whether you're a buyer or seller, you may have the exact conditions you need to buy or sell your home in your particular geographic region.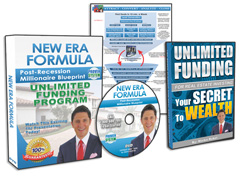 Request FREE Funding Kit and Discover How To Legally Bypass Banks And Gain Direct Access To "No-Credit-Required" Funding You Can Use To Achieve Your Financial Freedom... Start Now!