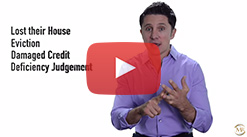 This Weeks Question is: Are we taking advantage of Sellers in our Business – When you buy a house from someone in Foreclosure, are you taking advantage of them? Absolutely not! We're HELPING them! And when you see how grateful the sellers are, you'll know you're helping them. Here's the issue – No you are not giving them the perfect solution, because they're not in a a perfect position.
It's unrealistic for someone who has a house worth $200k, and a loan worth $150k to expect full price for their house 2 days before foreclosure. They could never get $200k for their house. But guess what happens if you as an investor don't buy. The house goes to auction, which will typically sell for around 65-70% of the home's value. Seventy percent of that $200k house is $140k, and the seller still owes $150k, so the house goes back to the bank as an REO and he seller is left with nothing. Even worse, this homeowner in foreclosure could face eviction, damaged credit, high taxes, and deficiency judgements.
However when we (investors) buy their house, they will get their loan reinstated, their credit improved, and sometimes even a little extra cash for moving. It's a win-win situation. And those are the only kinds of business deals I make. Remember, treat others (sellers in foreclosure) the way you want to be treated.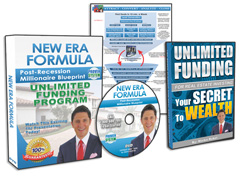 Request FREE Funding Kit and Discover How To Legally Bypass Banks And Gain Direct Access To "No-Credit-Required" Funding You Can Use To Achieve Your Financial Freedom... Start Now!