It's safe to say that we've been enjoying a bull market for about six full years now. Home sales since the Great Recession have steadily increased, with about 5.5 million sales noted yearly. Compare that to 3.5 million back in 2010 and you can see the exponential growth.
According to the real estate experts, the housing market is doing well. It's a seller's market, which means that home prices are quite competitive and don't stay on the market long. As such, mortgage rates are hovering at record lows, coming in a bit over 4% currently. This has buyers eager to get pre-approved and actively looking for the home of their dreams.
While interest rates are important when it comes to purchasing a home, there are factors that can affect the rate a lending company will approve for borrowers.  Whether you're a home buyer seeking a home for yourself or you're an investor seeking an investment, understanding what influences a mortgage interest rate can help you get the best rate out there.
There's a wise saying that says, "When you know better, you do better." When it comes to going after the best interest rate you can get on a mortgage loan, you'll do better when you're informed of what affects those rates.
Here are 5 things that can certainly impact your mortgage interest rate:
Length of the loan
Usually, the shorter the loan, the better the interest rate. Therefore, if you're seeking the lowest mortgage interest rate, opt for a 15-year loan over a 30-year loan. Your monthly payments may be higher, but in the grand scheme of things, you'll have paid a lot less interest, which saves you a lot of money.  Think of it as extra money that you can utilize in everyday life or cash that you can turn around and use as an investment.
Credit score
Your FICO score can certainly affect mortgage interest rates, so you want to find out what it is, and if it's not doing so great, work on improving it. Credit scores above 700 are considered good. Those above 800 are excellent. If you're below 700, work on improving it. Your credit score is based upon various factors, such as your payment history, credit history, number of new credit accounts, income to debt ratio, and how long you've had a credit history. Therefore, make sure you make payments on time, don't bite off more than you can chew credit-wise, limit the amount of open accounts you have, and have enough income to give you a good income/debt ratio.
The amount of the mortgage loan
The size of the mortgage loan can affect the mortgage interest rate. For example, if the loan you require is small, you may be charged a higher interest rate, so the lender is sure to make a decent profit.  If it's a huge loan, you still may have to pay a higher interest rate because the lender may consider the size of the loan a bit risky. In the U.S., loans under $100,000 or over $417,00 are considered riskier for lenders, so if you're in between those amounts, you'll have a better chance at getting the lowest interest rate.
The down payment
The amount of money you put down as a down payment can affect mortgage rates too.  The higher the percentage, the more likely the interest rate will be lowered. The amount may vary from lender to lender, so always be sure to shop around for your mortgage loan.
Type of interest rate
There are fixed and adjustable interest rates, and each will impact the interest rate differently. A fixed interest rate stays the same throughout the life of the loan. An adjustable interest rate generally remains the same during an "adjustment" period – say three to seven years – but after that, if interest rates rise, your interest rate will rise to meet the going rate at that time. As you can see, an adjustable interest rate can be a bit risky, as there's no telling what interest rates will look like years down the road.
Don't be afraid to talk to your mortgage lender to see in what ways you can possibly bring your mortgage interest down when you're ready to purchase a home. Also, shop around, because you may be able to get a lower rate at a different bank. Taking time to do your homework and seek the best deals out there can save you a lot of money in the long run, so it's definitely worth the time and effort.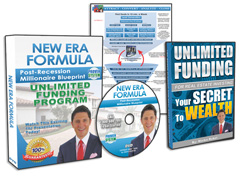 Request FREE Funding Kit and Discover How To Legally Bypass Banks And Gain Direct Access To "No-Credit-Required" Funding You Can Use To Achieve Your Financial Freedom... Start Now!