There are quite a few property investment gurus and programs out there, but I'm here to tell you I believe my programs are among the best. I've spent many years honing and perfecting them so that anyone can learn them and use them to better their financial lives. We live in a country where financial prosperity is possible, and my Niche 2 Wealth business model can help you get there!
Now, this isn't a "get rich quick" deal. Financial prosperity is possible, but it's going to take some time and effort on your part. Still, getting wealthy via property investing doesn't have to take you 20 years either, as I teach you various techniques and strategies to get you cash flow ASAP.
Here are some of the top reasons I believe this type of business model works:
You purchase homes without using your own credit or money
Many people think they must go to the bank for lending for each new investment purchase, but that's not the case.  Most of the time, when you use my Unlimited Funding Methods, you can bypass the banks and not use your credit or money at all.
Lower interest rate
Using my Niche 2 Wealth business model, you're taking over the seller's loan. In many cases, they've already secured a low interest rate, so you're not having to worry about a high interest rate like you might if you were taking out a new loan. This helps you to start getting good cash flow right away.
You're working with current economic conditions
Regardless of what the economy is doing, there are always sellers who are close to getting behind on their payments or facing foreclosure. With this method, you learn how to approach motivated sellers and inform them of how you can solve their problem.
Lease to purchase
When you take over seller's loan and then market the home to prospective home buyers, you have an advantage because you're selling a "house with financing" in place. This is highly appealing to masses of people in the current economy.
You enjoy a higher profit
You'll enjoy a higher profit than other investors, as you'll be able to charge a higher interest rate, financing points, and you'll be able to leverage other profit centers.
You get top-notch training
My trainings will help work smarter, not harder. Sure, you'll have to put in the effort, but you'll be trained to automate your entire marketing platform, freeing up your time to do other things you love.
It's a win-win
Even if the buyer defaults, you've got nothing to lose. You simply take back the home and do the process all over again, keeping their down payment. So, you've made money and you'll continue to make money on that same home.
Using my Niche 2 Wealth business model, you're providing a valuable service to both sellers and buyers. You're solving problems for people and making good money in the process.  The key is to familiarize yourself with the Niche 2 Wealth model and Unlimited Funding by my trainings, webinars, monthly coaching and seminars. My team and I are thrilled to take the time and teach you strategies that help you succeed in property investments and in life!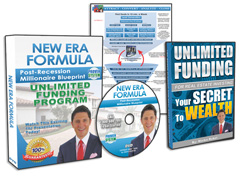 Request FREE Funding Kit and Discover How To Legally Bypass Banks And Gain Direct Access To "No-Credit-Required" Funding You Can Use To Achieve Your Financial Freedom... Start Now!