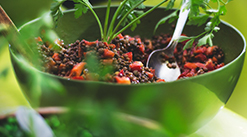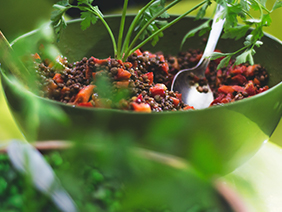 If you like to work hard and play hard, you may find times when you need more energy. Eat right, and you might just discover you have boundless energy. Of course, you should check with your doctor if you find you're feeling fatigued or don't have as much energy as you once did. As long as you're healthy, try eating one or more of these foods for a little extra energy.
Bananas
Bananas contain a lot of potassium and other nutrients. They are filled with fiber and can give you a lift when you're feeling a little tired. In fact, some studies show that they can be almost as effective as a sports drink for those times when you need more fuel.
Oatmeal
Start your day off right with a good breakfast. If you want energy that lasts all day, try a bowl of oatmeal. This is one food that helps stabilize your blood sugar levels. Oatmeal also contains a lot of fiber which keeps you feeling full. Try to sweeten it naturally to avoid getting extra sugar.
Almonds
If you feel tired when you're out playing or in between meals, a handful of almonds might just do the trick. They contain monosaturated fats, which are healthy and not bad for your heart. These fats help you feel satisfied and keep you going until you get a meal.
Whole Grains
Carbs give you energy, but you need the right kind of carbs. Whole-grain foods are best, like whole-wheat bread and whole-grain cereal. It not only gives you energy, but it's energy that lasts. Your blood sugar is raised gradually, so you don't feel the drop like when you eat candy or other sugary foods.
Beans
Beans are loaded with fiber and protein to pack a double punch. They fill you up and keep you feeling full longer. Beans are loaded with carbs, which give you more energy that lasts all day. They are an excellent replacement for meat, too.
Quinoa
Quinoa is full of protein and fiber along with iron. These three work together to give you more energy. It also helps keep your blood sugar level, so you don't get that mid-afternoon slump. Just put the quinoa in your favorite muffin recipes or salads for a pick-up any time of the day.
Water
Water isn't food but drinking plenty is one of the most natural things you can do to have enough energy. Many times, a person begins to feel tired because they are dehydrated rather than hungry. If you start to notice fatigue setting in, grab a glass of water before you look for food.
Add one of more of these foods to your diet every day, and you may notice that you start feeling more energetic. Keep one with you for a quick pick-me-up snack anytime.
(Talk to your doctor and/or healthcare professional before you start any type of new eating regimen or diet programs. The content and information on this webpage are for informational use only and should be carefully considered by the user.)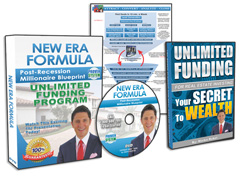 Request FREE Funding Kit and Discover How To Legally Bypass Banks And Gain Direct Access To "No-Credit-Required" Funding You Can Use To Achieve Your Financial Freedom... Start Now!