If you're thinking about purchasing a home as an investment, you'll want to get a snapshot of how your local real estate market is doing before making that offer. Chances are you've already done some research at the national headline news level. That's wonderful, but don't stop there. That's real estate at a macroeconomic level, but your local real estate market may paint a different picture.
Before you purchase an investment, you'll want to get a decent forecast of your local market for the next one to three years. While you may not be able to know 100% if they'll be a major shift, you can better predict if things will progress or digress from the following three factors:
How's the employment rate?
Look at your local area's employability. How's the area doing when it comes to business? Have there been a bunch of layoffs? Have new businesses come in? Are any businesses planning on coming into the area?  When employment opportunities increase, more people move to the area. When jobs are lost (think factory shutdowns, oil field diminishing, etc.), people move and there may be a surplus of homes.
Gather as much information as you can about your local employment scene. Check with your local city or county employment office online or call them. Ask around to see what the general consensus is. Put a survey up on your social media page, talk to realtors, and Google it.
How's the supply?
How's the supply vs. demand for your local area? Is there a surplus or shortage of homes? How many homes are for sale right now? You can also go a step further and investigate certain price ranges. A lot of home builders cater to the middle class. This can leave a shortage of homes suitable for first-time buyers, and this can be an opportunity for you. So, check the demand vs. supply by checking with the local board of realtors and check the past year to see any trends. You may also find some information from a Google search.
How's the affordability?
Are people able to afford the homes in your local area? What's the average income per household? What's the median home price? What's the average interest rate? There are online calculators (Trulia, Zillow) where you can plug these numbers in to determine the area's affordability. Check for red flags, such as high unemployment rates. You want the majority of people in the area to be able to nicely afford the median home prices.
By getting more familiar with your local real estate health, you're better able to make better property investments. As you gauge the area's employability, supply vs. demand, and affordability, you're more apt to make investment decisions that help you achieve your financial goals.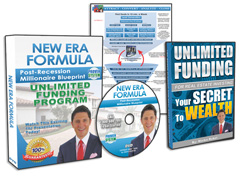 Request FREE Funding Kit and Discover How To Legally Bypass Banks And Gain Direct Access To "No-Credit-Required" Funding You Can Use To Achieve Your Financial Freedom... Start Now!