When you have rental property, you want to maintain that property, so the home holds its value and your tenants feel valued. You may not have thousands to put into the property, but there are ways in which you can spruce it up on a limited budget. Frugality with a bit of creativity can go a long way in the rental property business.
Here are 8 ways you can spruce up your rental property on a limited budget.
Replace the doors
If the doors in the home are old, in disarray, or just plain ugly, you can replace them for minor cost.  Even if you just replace the doors downstairs, it can make a big difference in appearance.  A decent door will run you between $20 and $30, so it's an affordable way to add value to your rental home.
Replace the front door
While we're on the topic of doors, consider replacing the front door. First impressions matter and if the front door is damaged, drab, or 50 years old, it's time to get a new one. Granted, if the door is a solid door that just needs a new paint job, give it a new coat with high quality paint. If it's old and ugly, toss it and install a new door that gives the home some charm. You can pick up a great front door for a little over $100 if you shop around.
Replace door handles
Old door handles with half the paint gone can look dingy and dull. Consider replacing the door handles on some or all your doors. For between $10 and $20, you can find some great brass finished door handles.
Give the kitchen cabinets some TLC
It may not be in your budget to replace the kitchen cabinets, but you can paint them for an affordable price. Those kitchens from the 70's tend to be dark and dreary. If that's the case, or if they're just looking drab, paint them with a white semi-gloss paint and put new knobs on them. People spend a lot of time in the kitchen, so spend some time sprucing it up in ways that won't cost you a fortune.
Install new kitchen faucet
There are some pretty sharp kitchen faucets out there for an affordable price. Go ahead and replace the old faucet with one that will add value to the kitchen. Look for discounted ones at your local hardware store or online. You can pick up a great faucet on sale for less than $50.
Replace switch plates
Replacing switch plates throughout the house is one of the easiest updates you can make, and it's super affordable. Some landlords will leave them or paint over them, when they could have replaced them all for less than $20. And, if you want to take it one step further, replace the living room, den, and kitchen plates with brass ones. They're not much more and will bring a new, classier feel to the home.
Replace the mailbox
Whether the mailbox is on the porch or at the street, consider replacing it a vivid, unique one. Your rental property doesn't have to be just another home on the block. It can stand out, and having a colorful, stylish mailbox is just one way to make that happen.
Clean or paint the trim
Dirty trim is a turn off. If the trim around the house is old and dirty, at the very least, clean it. If it still looks grubby, consider painting it. Use a bright semi-gloss white. It'll take you less than a day to do this and it will make your rental home look like it's gotten some major TLC. If the trim is broken or in disarray, consider replacing it.
You see how easy and affordable it is to spruce up your property?  It doesn't take much time or money to take drab and make it fab, so take these tips into consideration on your rental properties. You and your tenants will be pleased with the results.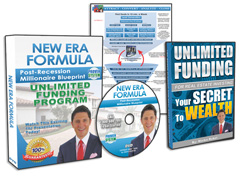 Request FREE Funding Kit and Discover How To Legally Bypass Banks And Gain Direct Access To "No-Credit-Required" Funding You Can Use To Achieve Your Financial Freedom... Start Now!