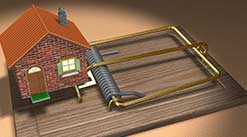 With new technologies and clever con artists, a seemingly good real estate deal may not be what it seems. While people are more aware of scams nowadays, scams have become more sophisticated. As a result, even if you're aware of scams, you may still not know how to avoid falling prey to them.
We've heard of just about every type of real estate scam out there, from rental schemes to fake loans or mortgages. To help you spot a scam before you get involved, we're sharing some advice. Be sure to pass along these must-know tips to your friends by sharing this article using our simple social buttons below.
Money Wiring
Never wire money through Western Union or Moneygram. A common scam is to request money as a deposit. You should always have a contract in place, have seen the property, and have measures in place to protect your money and your personal information.
Overseas Renter
If you find out the owner is out of the country or overseas in the military, you could be facing a scam. Before renting a place, you should meet the landlord, owner, or agent in-person at the property.
A Low Price
If it sounds too good to be true, it probably is. If a property is listed well below its worth and neighboring properties, there's a reason. Don't believe a seller if they say they're in a hurry to sell. There could be major issues with the house.
Timeshare Fake Buyers
If you own a timeshare and are looking to sell your property, never pay an agent a finding fee for a buyer until the sale is complete. Scammers will promise a buyer or renter if you pay them a fee. Once they receive your payment, they disappear and you never end up with a sale.
Illegal Flipping
It's common for investors to purchase a home needing some TLC for cheap, put money into it, and flip it at a profit. This is a legitimate business. However, some use it to scam people for a profit. They'll buy a home and create a fake home appraisal to claim certain renovations were made that actually weren't. Always hire a third party appraiser to do a thorough inspection.
Loan Fraud
Commonly, loan fraud results in the buyer overpaying for a property. A scammer will purposely misrepresent information to the mortgage lender. A mortgage loan is based on the borrower's credit and the home value. Never listen if an agent or seller tells you to lie about your income or disclosing information that would affect the loan you receive. And always hire a third party appraiser to make sure the property is worth the value stated.
No-Conditions Demands
Sometimes, a seller or the seller's agent will claim there is a bidding war on the home and that, in order for you to secure it, you have to accept a no-conditions sale. This means you would buy the home without a home inspection. Never agree to this condition. There could be serious underlying issues in the home. While you could end up with a great deal, there's a good chance there are issues you'll have to repair that will cost a significant amount.
While scams can be tricky and clever, if you take the time to investigate the case, you can see through the mist and determine the truth.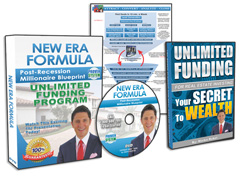 Request FREE Funding Kit and Discover How To Legally Bypass Banks And Gain Direct Access To "No-Credit-Required" Funding You Can Use To Achieve Your Financial Freedom... Start Now!