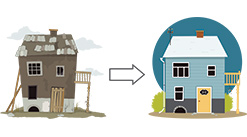 Have you ever watched one of those real estate reality shows and thought, "wow – isn't it difficult to get an entire home renovated and sold in less than a month, let alone a week?!" My friend, you'd be spot on!
Far too many new real estate investors try to break into property flips that involve extensive "makeovers" and major structural upgrades. This is a mistake for so many reasons! I'm here to teach anyone willing to learn that you can flip properties without renovating. It's much more efficient and, in practice, will allow you to make more successful investments per year.
This summer will be a hot one. Cool off on the renovations and chill your budget for a successful season of real estate investing – the easy way.
Cost
First and foremost, renovating a flip is almost always a mistake for new and casual investors, because it forces you to spend money out-of-pocket.
Often, costs of improvements are grossly underestimated, leading to a big surprise at the end of the project, and making it difficult to sell the property for the price you need to cover the expenses. Unless you are a well-connected, seasoned project manager for home improvements, it's prudent to stay away from the "fixer-upper" projects – you truly never know just how much needs to be fixed up until it's too late.
Time
The other problem with property renovations is clear: it simply takes too much time to pull it off. Instead of waiting for building permits and dealing with delays from the contractor team, you could easily have sold a more secure property during the same amount of time.
In any business setting, but especially in the real estate world, time is practically equivalent money. Since it's such a key factor in your success as an investor, you should strive to save as much time as possible when planning out your deals. Usually, that will mean not renovating your property before sale.
Margin
Ultimately, cost and time are the two major variables that influence the return you'll get on your flip investment. If you've spent too long making improvements to the property, you've lost out on time that could have been rented out to a tenant, or simply sold and moved on to the subsequent project.
Every real estate investor wants to earn higher margins, but few are willing to spend the time it takes to find the most profitable deals. About nine times out of ten, the properties with the most moneymaking potential will be a steal "as-is."
Learning to flip properties without having to fix them up first is a very important skill to have as a real estate investor. It will help you focus on high-return investments rather than be bogged down by endless details and unexpected costs.
Ready to start your property flip journey? You should check into my Unlimited Funding program to see how you can start your real estate investing career sooner rather than later. It's the only digital course out there that teaches investors how to get around traditional funding sources and start investing today.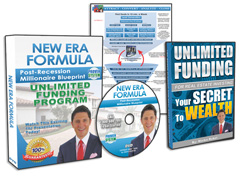 Request FREE Funding Kit and Discover How To Legally Bypass Banks And Gain Direct Access To "No-Credit-Required" Funding You Can Use To Achieve Your Financial Freedom... Start Now!