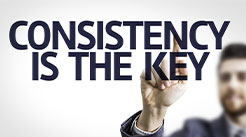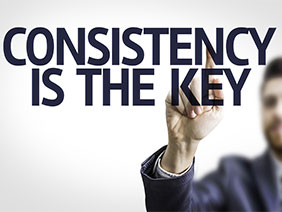 If you're serious about real estate investing, then you'll want to become serious when it comes to consistency. To be consistent means that you perform an action on a regular basis. This could be daily, weekly, monthly, and so on. Great investors are those who value consistency and form their businesses around the character trait.
Lack of consistency is a large reason why many real estate investors don't enjoy the success they desire. They might start off all gung ho, practicing consistency, but over time they lose motivation and become less consistent. This is something you'll want to watch out for on your real estate investing journey.
Here are some key benefits of staying consistent in your investing business:
Consistency Helps You Track Results.
Small actions completed over time assure you the best chance of success. Consistency allows you to see if things are working for you. Let's say you purpose to be consistent over a year when it comes to marketing to a particular niche. This will allow you to measure whether consistency in that area is beneficial or not. You wouldn't know if you lacked consistency.
Consistency Makes You Responsible.
As you practice consistency, you're taking full responsibility for your business and life. You perform the steps toward your goals whether you feel like it or not because you've committed to being consistent. It makes a difference!
Consistency Helps Others Respect You.
As you practice consistency in your business, others will respect you more. You'll see that your reputation gets better and better because you're leaving behind a trail of success. This is not likely to happen if you're lacking in consistency.
Consistency Gets Results.
Small actions done over time get results. This is one truth that if people could really get ahold of, their lives would be different. Even one small action each day toward growing your business can help you accomplish the goals you've set.
Tips for Becoming More Consistent
First, to become more consistent requires you to make a commitment to yourself. Commit to being the kind of person who practices consistency in all areas of your life. Take your goals and create action plans by breaking the goals into steps. Then, consistently work toward your goals step by step. This could mean working on certain things every day or every week.
It may help you to make a list each week of "To Do's" and keep that list in a place you see every day. If you don't see it, you might forget about it. For example, if you want to learn more about marketing to your target audience, write down your goal on your list. Perhaps you want to spend 30 minutes every weekday reading or studying our Foreclosure Investing Mastery course, so make a commitment to do this every day whether you feel like it or not. That's 2.5 hours a week becoming an expert!
Once you catch on to how consistency can impact your business and life for the better, you'll automatically pick up the trait. You'll see the results it gets you and it'll become a no brainer to be consistent in every area.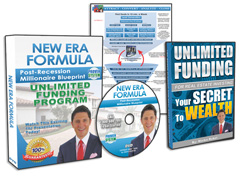 Request FREE Funding Kit and Discover How To Legally Bypass Banks And Gain Direct Access To "No-Credit-Required" Funding You Can Use To Achieve Your Financial Freedom... Start Now!