When you're seeking property to invest in, you may be looking at a townhome or home that has Homeowner Association (HOA) fees.  You'll want to get familiar with HOA fees, because it could make a difference in your buying decision.
Some people think only townhomes or condos have HOA fees, but single family detached homes may have them as well.  Essentially, this means that when you purchase that property, you must join that particular community's homeowner's association (HOA).  As part of the HOA, you are obligated to pay monthly or annual HOA fees that go toward community upkeep.
Now, sometimes HOA's are a pain in the neck, because you might be forced to paint your house when you don't think it's necessary. On the other hand, there also nice to have because they force residents to keep their homes and yards looking good, which is a benefit for you when you want to sell the home.
Here are a few things to consider about HOAs:
The basics
HOA fees vary depending on the quality of the neighborhood, condo or townhome you're looking at. Upscale properties may charge $400 per month, whereas others may charge $100 per month.  These fees will sit in a fund to be used for building and property maintenance, as well as administrative fees. Sometimes a major renovation may need to take place, such as a new roof, and if there' aren't enough funds in the account, they may send out an extra assessment to acquire more money.
HOA fees may be used to keep up landscaping, clubhouses, pools, exercise centers, security, maintenance, parking garages, and more.  The consensus is that HOA fees are in place so that the quality of living for residents can be good.
Covenants, conditions, and restrictions (CC&Rs)
When you purchase a home or condo where HOA fees are due, you may also have to abide by certain rules that everyone must follow. These are called covenants, conditions, and restrictions (CC&Rs). Before making a purchase, you'll want to look over the CC&Rs to make sure they are something you want to be on board with. The rules may require everyone to have the same color front door, or may dictate whether you can have a pet, satellite dish, clothes line, window blinds, and more. They also state exterior landscaping rules, how many vehicles you can park in your driveway, and have certain restrictions.
Check the HOA rules first
Some communities have their HOA rules online, so do your homework before getting too interested in a certain community. If you can't find the HOA's CC&Rs online, ask your realtor to get you a copy. If the rules are more restrictive than you prefer, you may want to pass on looking for homes in that community.
Ask about fee increases
Don't be afraid to ask how often they raise the HOA fees. Ask for a printout of the last five or ten years of HOA fees to see any changes.  Also, ask if there have been any special assessments in the past or if there are any planned to go out soon. Get clear on what the HOA fees cover or what is included, such as water, cable or garbage.
Play the tape forward
Are you the kind of person who likes to be told what to do?  Play the tape forward and see you getting a letter in the mail from the HOA team requiring you to do something. Or perhaps that there's been an increase in fees. How will you respond? What about if you want to put a pool in, but the HOA has rules against pools? Or a shed? Can you handle the rules and restrictions?
HOA fees can be a great way for a community to keep properties looking good and offer residents a great lifestyle.  If the quality of neighborhood matters to you in your home or investment purchases, then you shouldn't have any issues with HOA fees. However, if you don't want to have monthly fees, rules, and regulations to follow, then it's best if you seek to purchase in a community where there isn't a homeowners association.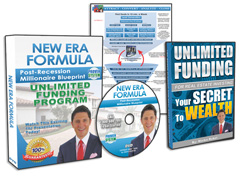 Request FREE Funding Kit and Discover How To Legally Bypass Banks And Gain Direct Access To "No-Credit-Required" Funding You Can Use To Achieve Your Financial Freedom... Start Now!