Keeping up with national real estate trends, general and particular, helps the investor stay on top of his or her game. Keeping up with the expected and most likely trends and acting accordingly can do much for your bottom line as they have, for me, over the years. One of those trends is how millennials will continue to shape the real estate market for years to come. Many experts predict as investors exit the real estate market due to shrinking opportunities for them, they will clear the way for traditional buyers and millennials. My recent blog "Here Comes The Millennials" spoke to their anticipated impact on the real estate market this year and next. Stan Humphries, chief economist of Zillow.com is predicting, in 2015, home value growth will halve from 6% to 3%, making real estate less attractive to investors. Redfin.com chief economist Nela Richardson concurs. The real estate market is expected to be tougher on investors than ever before, dealing with a more sophisticated buyer seeking better terms, making offers subject to sundry contingencies, and demanding seller inducements, squeezing the seller investors as much as they can.
Yet, the experts are counseling the seller investors that the buyers market is long gone and the time to act is now. Homes are still priced to please sellers and the pricing for buyers is still a pricing to disappoint. There is still time to squeeze those hungry to buy buyers before interest rates do climb even in small, low doses and home prices shoot up even further. Just don't expect cash deals and sales without contingencies or seller give backs. The sellers market will likely continue for the rest of the year, most believing with the total unsold housing inventory at an almost six month supply, making for a healthy, sustainable market this year.
With the global economy suffering more stress than ever from the Asian markets and now China in particular, the continued strong dollar is serving as the impetus for an influx of foreign investors seeking high end American real estate that will be more appealing due to the global world economic turbulence. Foreign investors are clearly worried about their currency fluctuations devaluing their money and American real estate remains the very best depository for those flush with cash. Many foreign investors will look to buy, hold, and rent, even using such properties as residences for their children attending American schools.
For more modest housing needs, experts no longer see building wars and lots of all cash offers. They do see many fence sitters taking the plunge to buy with all the available inventory to choose from, mostly traditional buyers with traditional financing.
Other trends can be mentioned. Mortgage rates are expected to remain low, the credit crunch for many is expected to continue for most traditional buyers, and home prices will continue to rise with gains around 5% deemed stable and sustainable. No roller coaster changes in home prices are likely for the remainder of the year into 2016. Economists forecast an improving domestic economy but caution to expect continued home price increases and declining home affordability. Millennials are moving the market, but not as homeowners. Those millennials demanding housing are said to be seeking housing where it is tough to build, as they prefer pricier, more exclusive homes and will rent until they find them on their terms and within their tastes. Single family new home construction is down and that trend will continue. Millennials seek smaller, greener homes. A move back to the cities away from the suburbs that their parents gravitated towards is the wave of the future. Second tier cities will see the greatest growth as the real estate recovery hinges on job growth and that is where the jobs are. Condo development will continue to be on the back burner and multi family apartment buildings will wane. Yet, it will be a renter by choice world they see.
Overall, it remains a good time to buy and a good time for the savvy seller investor. With low interest rates, a strengthening economy, inflation continuing to be kept in check, lower global oil prices, along with the continuing infusion of foreign investment money, the real estate market continues to be healthy and sustainable. Remain bullish say the experts.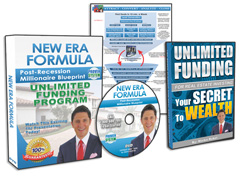 Request FREE Funding Kit and Discover How To Legally Bypass Banks And Gain Direct Access To "No-Credit-Required" Funding You Can Use To Achieve Your Financial Freedom... Start Now!