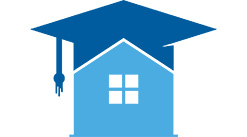 A common question that people have when learning about this industry is, "how much education do I need to make big profits as a real estate investor?" The answer is absolutely not! Some of the most iconic and successful investors built their empires without going to college.
Real estate markets are constantly fluctuating. That means that in this field, you can easily learn on the fly while making money at the same time. Trust me when I say that investing directly in real estate will pay off a lot more than investing in student loan debt – and a lot faster, too.
No matter who you are, you can learn the vital know-how required to pull significant margins with real estate investments. College is not a prerequisite for making money in real estate.
Below, I'll explain how to build a solid educational foundation over time, without formal schooling.
Alternative Education
Getting your schooling from alternative sources is important, whether or not you hold an academic degree.
Even if you never attended college, you can still take advantage of countless opportunities to learn about business, economy, psychology and sales skills. I myself have created books and digital course material for people learning how to get started investing in real estate.
Real estate investing books and audiobooks, blogs, digital courses, in-person seminars and conferences all exist to bring new information and perspectives to the investing community. Whether you need a crash course on the basics of real estate law or taxes, or are looking to hone in on a particular skill, you can almost always find independent courses or trainings to fit your needs.
The only true prerequisite for becoming a real estate investor is a keen awareness and willingness to put effort into your own professional education.
Mentorship
Another important factor in your real estate education is your ability to find a mentor or experienced business partner who can show you the ropes. Whether this is another investor, a Realtor, a financier or simply a trusted colleague is up to you.
Guidance from a seasoned real estate professional will help you make better choices, while steering clear of many of the pitfalls new investors can often face. But, make sure to always prioritize your education and take your mentor's advice with a grain of salt.
In a changing industry such as real estate, your mentor should help you stay critical and ahead of the curve when it comes to market trends and investing strategies.
Remember that every type of real estate deal provides different drawbacks, along with the obvious benefits. That's why a healthy hunger for knowledge will serve you very well as an investor and in the business world at large.
One way you can start learning TODAY is by embarking on my Unlimited Funding course. It contains the perfect combination of reading and reflection material, as well as audio and video content to teach you how to bypass the big financial institutions and find your own funding to fuel your real estate dreams.
Click here to learn more about the course!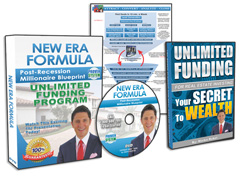 Request FREE Funding Kit and Discover How To Legally Bypass Banks And Gain Direct Access To "No-Credit-Required" Funding You Can Use To Achieve Your Financial Freedom... Start Now!