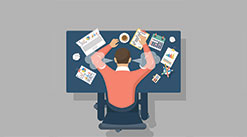 When you're just starting out in real estate investing, the amount of information at your fingertips may feel overwhelming. Though having a plethora of helpful information within easy reach is wonderful, it can also put you on overload, not knowing where to begin. Today, for those newbie investors that may be feeling this way, I'm sharing five superb tips that will help you narrow your focus down to a manageable level so you can move forward with ease and confidence.
Hone in on a niche
There's a variety of niches in real estate, so your first step is to decide what niche you're going to focus on. Do you want to focus on investing in duplexes? Single family homes? Apartment houses? Commercial? Land? Purchase fixer uppers, fix, and flip? Wholesale properties? Do some research on the many niches in real estate investing and narrow your focus down to one. Begin there. Sure, you may be interested in more than one, but you can get to the others later on down the road. For now, master just one niche and go from there. When you dig deep in your chosen niche, you'll gain valuable lessons that you can then use when you branch off into another niche later.
Choose exceptional, trustworthy information
There's a ton of information and educational opportunities out there, but not all are up at par. In fact, some are simply not credible. Therefore, be sure you choose exceptional, trustworthy educators or mentors. Verify that they're the real deal, backed by a successful portfolio and credible references. Are they currently investing in the market? Are they all hype, or do they have the assets and expertise that you're seeking? Do your homework and research before engaging with a school, mentor, or consultant.
Determine your best learning style
Do you learn better by reading, hearing, or doing?  As you begin educating yourself in real estate investing, pay attention to whether you're a visual, auditory, or kinesthetic (feel, touch, doing) learning. If you're a visual learner, you'll benefit from watching videos or attending workshops and seminars. If you're more of an auditory learner, audible books or podcasts may suit you well. If you're more of a kinesthetic learner, you'll enjoy hands-on learning. You'll want to engage yourself with a mentor or group that is in the investing trenches and learn that way. You can learn all three ways, but most people have one primary learning style that suits them well.
Locate the experts
To be a successful real estate investor, you're going to have to put a considerable amount of time into learning. As you commit to learning regularly and staying up to date, locate the experts in your niche. You want reliable sources that offer a sizable amount of information for free via articles, guides, podcasts, and videos. You may also want to check out some who have shared their success stories. Begin following those experts that resonate with you and have a good reputation, devour the information they've posted, and stay on top of the new information they post.
Be proactive
There will come a time once you've invested some time into the learning process where you'll need to step out and take action. When you've come to understand your strategy quite well, it'll be time to get those feet wet and be proactive. See, knowledge is great, but unless you put that knowledge into action, it just sits there and gets stale. Sure, it can feel a bit scary your first time. That's normal, but it can also feel quite exciting. Pick a day, week, or month as your target date to ACT, and simply do it!
Being strategic as a real estate investor is just smart. Take these tips to heart and continue on your investing journey. As you continue to educate yourself, you're empowering yourself for great success now and down the road. Enjoy the journey.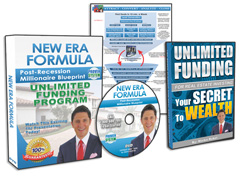 Request FREE Funding Kit and Discover How To Legally Bypass Banks And Gain Direct Access To "No-Credit-Required" Funding You Can Use To Achieve Your Financial Freedom... Start Now!