Real estate is a numbers game in the literal sense of the term. Almost every real estate transaction you complete requires you to crunch a few numbers. You don't need to be a math genius; however, you must at least understand the basic calculations and concepts. Further, if you go on to become a real estate mentor, you need to be good in dealing with numbers so as to get the best for your mentee.
There are different areas where math is used in real estate. The first is in market research. Market research is the backbone of real estate investing. If you ever listen to real estate coaches, mentors or experts discussing the market, their predictions on how the price of homes will appreciate or depreciate or how long a particular home will last on the market are always supported by hard facts. In order to be able to quote some facts, it is first important to understand each of the concepts individually and also how they relate to each other. This kind of homework involves doing a lot of math. And, if you are able to crunch the figures right, you can establish yourself as an expert in the field.
The most basic use of math in real estate is the calculation of profitability on a particular investment. The main reason why you are investing in real estate is to make money. Therefore, you should be able to calculate the income from a property as against the expenses on the same property. It is not easy because the expenses against the property include repair and maintenance charges along with mortgage payments, taxes and other such variables.
When speaking about real estate investing we cannot forget about loans and interest rates. Whether you borrow from a conventional financial institution or use creative financing, every loan entails an interest payment. For the buyer, this is the cost of the borrowing. You should be able to calculate the interest payment in cash and percent and should use the figures to compare and get the best finance option.
If you will take credit to purchase the property, you must be able to calculate the loan to value ratio. The loan to value ratio determines the amount the lender will give you as a loan and the down payment amount you will have to pay from your own pocket. There is another variable that needs to be calculated and that is the debt to income ratio. With a property holding you must be able to estimate the tax liability. This will help avoid hefty penalties at the end of the year. It is best to work with a tax consultant because they are not only accurate at calculating your tax liability, but also help you save through various deductions. Math calculation is real estate also include calculating prorating fees.
Finally, real estate investing is also a branch that lets you earn by way of commissions. The amount one can earn by way of commissions is not fixed. As a middleman, you should be able to figure out the amount of commission on a particular sale.
Above all, you should be able to maximize your money and minimize expenses if you want to survive and remain unaffected during an array of market changes.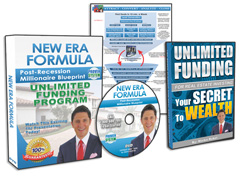 Request FREE Funding Kit and Discover How To Legally Bypass Banks And Gain Direct Access To "No-Credit-Required" Funding You Can Use To Achieve Your Financial Freedom... Start Now!