We're now living in a New Era Economy. Successful real estate investors aren't investing like they used to, as some of the rules and strategies have changed. If you want to continue building wealth using real estate, you may benefit from learning newer, more effective principles. These days, there are strategies that will set you apart from the crowd and will put you face-to-face with incredible opportunities.
In this New Era Economy, it's about working smarter; not harder. Some say now that Trump is president, the real estate industry will benefit greatly. This is my hope. Now, hard work is necessary, but so is learning strategies that will allow you to leverage your effort, rather than just working your fingers to the bone for little profit.
Here are some key reasons you must learn to invest differently in the New Era Economy:
Opportunity is plentiful
Sure, it's a sellers' market, with home inventory on the lower side of the scale. This keeps some potential investors on the side lines, waiting for the market to change.  However, you could be waiting year after year, missing out on cash flow, because there are always motivated sellers out there who want YOU to help ease their mortgage crisis pain. Right now, there are homeowners facing foreclosure due to divorce, job loss, crisis, and so on. The opportunity is there, but you must act fast, using strategies like my Niche2Wealth business building.
Time is of the essence
Your time is valuable. You want to balance your business life with your personal life. Because of this, I teach my students how they can use their time wisely using specific investment strategies that will give them maximum profit in minimum time. What if you can land a deal with 2 to 3 hours of work? I mean a nice cash flow deal! Are you ready for that?
Accelerating your path to success is something I'm passionate about, and helping you maximize your time is something I excel in.
Mentorship is king
The real estate investment niche has changed over the years. Since the last recession, there have been plenty of seasoned investors and newbies who have made mistakes along their investment journey.  I understand how it feels to go after success alone and I understand what it feels like to have a remarkable mentor show me the ropes.  If given a choice, I'd choose a mentor every time.
I see mentorship as a shortcut to accomplishing your goals. Whatever it is you want, someone has been there and mastered that.  You don't have to go it alone and you shouldn't. Much of my success has come because I hired excellent coaches who taught me well. In this New Era Economy, you can do the same. Get yourself a mentor or coach with proven success, so you can bypass some mistakes and accelerate your path toward your goals.
Real estate investing continues to be one of the safest forms of investing around. With the changes in the economy over recent years, some old ways of investing just aren't worth the time and effort anymore.
This is one reason why I'm passionate about training students how they can invest differently, continuing to build their cash flow, and ultimately, wealth. With programs like My Unlimited Funding, which is a post-recession millionaire blueprint, you'll be well on your way toward manifesting the type of profit you truly desire.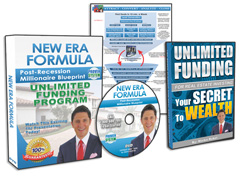 Request FREE Funding Kit and Discover How To Legally Bypass Banks And Gain Direct Access To "No-Credit-Required" Funding You Can Use To Achieve Your Financial Freedom... Start Now!