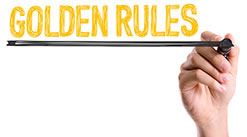 I post this article from time to time to give my students a fresh reminder of my 3 biggest rules for successful real estate investing. – There are right and wrong ways to do just about anything in life – including investing in real estate. The traditional way to purchase properties is to save for a down payment and qualify for a bank loan. – This is the wrong way, for many reasons .
First off, qualifying for a bank loan can be a really stressful process. By filling out the loan application, you are giving the lender the right to ask prying questions about personal matters such as your credit history, bankruptcy issues, and child support payments. If your credit rating is low or non-existent, the lender will probably deny you the loan. Additionally, there's the interest rate. Over a 30-year period you could actually end up paying close to double the cost of a property. And interest rates tend to be higher for real estate investment purchases On top of all of that, there is the major risk of putting all your assets on the line, you could lose it all.
So what's the right way to invest? I teach my students to follow what I call the "Golden Rules" of real estate investing:
1. Don't write big checks! You don't need to.
2. Do not jeopardize your credit! Use existing financing on the property.
3. Do not make promises to seller you cannot keep! If you do, you can be sued for fraud or misrepresentation Conduct business legally, ethically, and honestly.
My "Golden Rules" make it possible to acquire real estate investment properties without having to deal with lenders or the hassles associated with banks and mortgages. By working directly with the sellers and using my unlimited funding strategies, it won't matter what shape your credit is in- you'll be able to buy a property. Best of all, your assets will not be at risk. If you want to learn more about the right way to invest, check out my new book Investing in Real Estate Without Banks.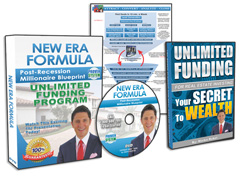 Request FREE Funding Kit and Discover How To Legally Bypass Banks And Gain Direct Access To "No-Credit-Required" Funding You Can Use To Achieve Your Financial Freedom... Start Now!