There's a lot going on right now, and I wanted to check in with you all and make sure you don't let the distractions of the world pull you in a different direction than where you want to be headed. The elections have been all over the news, which I'm sure has many of you wondering and trying to figure out what that means for business. On top of that summer is approaching fast which means even more hectic work schedules and family time!
None of these things are bad, but if you don't keep your focus it's an easy time to let the rest of the world distract you into being unproductive. Many of my students have wrestled with this each year, and there are times that even I have to focus in order to get through what needs to be done.
My point this week is to reiterate some of the things we've talked about and that I've taught you more in depth before. First, you need to be sure that you're staying organized. Especially now when there is a big chance you will have family events and holiday parties, make sure you know what you need to accomplish before it's too late. If you don't plan, then it won't get done.
Second, start your day with the important stuff first. Remember, there are always going to be surprises in your day and if you don't begin working on the most important things first, then it's probably a pretty good chance that those things won't get done. You don't have to work longer or harder, but you do have to fight a little bit harder to stay as organized each day.
Lastly, remember to be positive! This is going to not only help you accomplish more by feeling positive but it will help keep you healthy and those around you happy too!
-Marko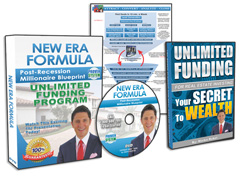 Request FREE Funding Kit and Discover How To Legally Bypass Banks And Gain Direct Access To "No-Credit-Required" Funding You Can Use To Achieve Your Financial Freedom... Start Now!