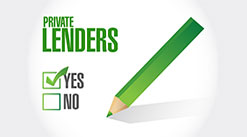 Banks vs Private Lenders
Using Banks for loans is one way to obtain funding for your real estate investment however it is wise to consider the hoops you must jump through before that loan can be obtained:
Banks
Slow process: Investors that find great properties at low prices need money fast.
Red tape
Seasoning issues
Borrowing caps
Endless paperwork
Not knowing whether the loan will even be approved.
Often banks will only loan on the purchase price of the house and not on the value of the house, thus penalizing him/her for being a superb investor.
Will only allow you so many loans before they cut you off; This is NOT dependent on your financial situation.
Private Investors
Funds offered can be used for:

Repairs
Down payments
Re-instating a loan
Cash for a short sale
Moving money for seller, etc.
Purchase multiple properties with little or no money down
Loans do not appear on your credit report so your FICO score is not negatively impacted
Closings can be done within 7-10 days and sometimes sooner
How to find private lenders?
Many private investors are looking to make a quick, good return on their cash that want to make a good return on their cash and Investing in CD's or 401K is high risk, low return proposition.
Find investors in your inner circle – People you know that trust you:

Parents
Siblings
Grandparents
Friends
Neighbors
business contacts
Fellow real estate investors from your local area
Your lawyer, accountant, doctor, etc.

Other ways –

direct mailing to CD holders
inviting people to an information luncheon
advertising in the newspaper (make sure you read the SEC rules)
Have a Private Lending Plan
Create a detailed private lending plan in clear concise words to show you know what you are doing
Create a presentation to display details, examples, and graphs / diagrams of how it will all work IMPORTANT: Offer a note, mortgage (deed of trust), add them to the insurance as additionally insured, get them title insurance, etc.
Tell them how you will pay them back –

monthly or when your received payment, etc.
How the interest will work – simple or compound When interest begins
Minimum interest (i.e. at least 2 months)

Decide on the minimum investment
Do you pay higher for second liens?
Plan for objections

If Seller wants to get his money out earlier
Do you pay partial months in full? etc.

Answer all questions BEFORE they have an objection
Network and tell people how you can give them a good return on their money
Create a brochure / credibility kit
An overview page includes

Information about your history in real estate
Number of deals
Education
Training programs
Certificates
Memberships
Show you are a serious real estate professional

Discuss how the program works
Explain how private investments get a high rate of return, and are a secure investment
Show and explain all the proper paperwork
Explain the sources of capital they have available for making the investment such as HELOC, IRAs, 401K, CD, Savings accounts
Give examples of past deals
Page for frequently asked questions
Remember:
Your private lenders do not necessarily need to be wealthy. Someone with $5000 – $50,000 in a retirement plan could help you do a lot of deals!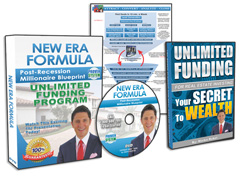 Request FREE Funding Kit and Discover How To Legally Bypass Banks And Gain Direct Access To "No-Credit-Required" Funding You Can Use To Achieve Your Financial Freedom... Start Now!