It's a seller's market in many areas in the nation, with home inventory on the low side. This means that if you're a buyer seeking a home, you've got to have your "A" game on. You've got to be on the lookout for new homes that are listed and be ready to make a quick offer if you're interested in it.  There are plenty of people who miss out because they're slack when it comes to being prepared to make an offer quickly.
If you're seeking a home as a residence or as an investment, here are 5 things you must know:
Get pre-approved
Getting prequalified for a mortgage is great, but you must get pre-approved if you want to have your "A" game on.  A pre-approval letter from your lender sent in with an offer lets the seller know that you've done your work and your serious. You want to purchase the home and you're ready. Getting pre-approved means you've submitted all the documentation you need to your lender and they've approved a loan for a certain amount of money. If you haven't been pre-approved yet, start this process today.
Be sure your realtor is experienced
In a seller's market, oftentimes there are multiple offers made on a home for sale.  You want to be sure that your realtor is experienced and will go the extra mile to inquire about the activity on a home you're interested in.  An experienced realtor may contact the seller's agent to investigate any activity going on regarding the home, so you know right up front whether you're contending with multiple offers. If you choose an inexperienced or lazy realtor who won't be able to guide you through the process, you may lose out.
Look at homes in your price range
It's easy to get caught up in the exciting process of buying a home and before you know it, you're searching the MLS for homes that are out of your price range. You might do this just for fun at first, thinking there's no harm in it, but then you see the home of your dreams! Sure, it's well over your budget, but you absolutely love it!  Or, you find a home within your budget, but because of multiple offers, the bidding war takes the price over your budget. Stay within your budget no matter what's going on, as you don't want to experience the high stress that comes along with financial strain that may come down the road.
Increase your earnest money deposit
If you increase your earnest money deposit, it gives the sellers an indication of how serious you are about wanting the property. That increase in cash could be the deciding factor for the sellers, so if you've got the cash, consider boosting your earnest money deposit.
Remember that due diligence is in your favor
Some potential buyers hesitate on making an offer on a home that they like, thinking that they need all the details before pulling the gun on their offer. The reality is that there is a period of due diligence, which means that if you make an offer as soon as you view the property, you still have a couple of weeks (due diligence period) to get the details.  In that time, you can schedule the home inspection, check on utility costs, square footage, and so on. If you decide within that time that you don't want to purchase the home, you can get out of the contract. Just be sure that you cancel before the due diligence period is up so that you get your earnest money deposit back.
Conclusion
You may feel that buying a home in a seller's market has its disadvantages, but there are plenty of people who find their dream homes and investments in such a market.  It'll come down to you doing your homework, being prepared, having a fantastic realtor, and making your offer quickly.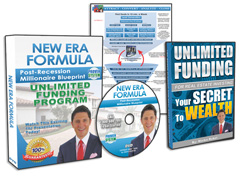 Request FREE Funding Kit and Discover How To Legally Bypass Banks And Gain Direct Access To "No-Credit-Required" Funding You Can Use To Achieve Your Financial Freedom... Start Now!