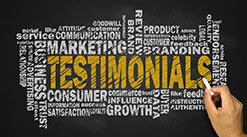 You should use testimonials in every aspect of your real estate marketing. When you make a statement about your services, it is a claim. When your satisfied customer makes the same statement about you, that makes it a fact. Testimonials can make you credible. Trustworthy. Testimonials build trust. The most powerful source of persuasion apart from a client's own experience is the opinion of someone they trust or who appears trustworthy. Whenever a client raves about you and the services you render, they are expressing to the world, first and foremost, that they too can benefit from working with you and your services the same way. They can have the same positive experience and the same end result as well. Testimonials stand out as non sales expressions. They are not written or expressed by you. They are not offered in your "first person voice." They stand out as an unbiased and candid account of how well you provide good to exceptional service. They overcome skepticism. A powerful tool indeed to reel in a client.
The value of the testimonials is in lending you credibility. Done well, marketed well, they are purposeful, genuine, fresh, and specific. They provide folks who have greatly benefitted from your services the opportunity to inform prospects specifically what was done by you for them and why they should work with you as well. Gathering praise and high marks for competent and beneficial service can be huge. Having an endorsement from a third party gives you and your business the credibility you need to be and remain successful, to grow professionally, and to build a larger client base.
How you choose the right testimonial does matter. There are creative ways and key ingredients for a testimonial to be great and powerful rather than weak and ineffective. A feeble testimonial does you no good. Nor does a glowing very generic statement either. A testimonial that says " I loved the service" or "he is a great guy" is indistinct and weak willed. Consumers are more sophisticated than ever before. To simply claim what you do or to have someone say you are the best is not good enough. It projects nothing of consequence. There is no detail to have a real impact, to turn a prospect into a valued and appreciative client. It is best to have an effective benefits driven testimonial to sway the undecided. A very good testimonial is filled with benefits to be shared. It substantiates your claims. It backs up what you have said with actual facts. A good testimonial is reliable, authentic, and credible. It confirms your credibility by being from real people. It is an endorsement of your unique value and of the benefits they too can receive. They are comparative. They set you apart most positively from the competition and help you to stand out. They turn prospects into clients.
Being creative with the wording of the testimonial also matters. You certainly can help them craft the material for maximum effectiveness in impressing some of your target audience and getting a prospect's attention. Those who wish to provide a testimonial may not know how to prepare a good one, so help them do so. Make sure those written reflect your target audience and accomplish placing you in a most favorable light, making sure they are pithy, snappy, and easy to follow. For authenticity, a full name can be quite effective.
How you effectively use testimonials also matters. Display well crafted positive testimonials on a website page devoted to them. They are particularly noteworthy alongside a squeeze or landing page that drives traffic to you. Implementing video testimony can be especially effective. It is a great tool for marketing. Buying is an emotional decision at its very core. And a video testimonial can be a compelling positive expression of a most satisfied client. They may be more challenging to do but obtaining a voice and a face to a well crafted testimonial is far more compelling than mere words can be.
Last of all, you need to ask, to seek, to get testimonials every time. Using testimonials really matter.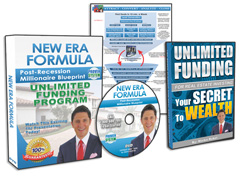 Request FREE Funding Kit and Discover How To Legally Bypass Banks And Gain Direct Access To "No-Credit-Required" Funding You Can Use To Achieve Your Financial Freedom... Start Now!