The benefits of finding a partner for your real estate business are manifold. A good partner can provide funding, ease your workload and make it possible to take a vacation or a day off without worrying about what's happening in the office. The key lies in finding a partner whose values mirror your own.
Financial Solvency
Before aligning yourself with any potential business partner, do your due diligence by investigating their finances. Do they have a history of bad investments, failed businesses or bankruptcies? If so, have a discussion about his or her past and make sure you're on the same page as to what good business practices entail. He or she might have a good or at least reasonable explanation. Remember, though, that it's imperative your partner is someone you can rely on, and if your potential partner consistently makes bad financial decisions, it might be wisest to look elsewhere.
Shared Values
Your ideal partner should value the same business principles that you do. If you believe in being incredibly organized and working 50-hour workweeks, a disorganized partner who prefers evenings and weekends off might not be the best match. Similarly, if one partner believes in people-first business practices while the other favors profit-first methods, it will create friction and stress. A partner should make your life easier, not give you a headache because your values are incompatible. You'll work closely with your partner; find someone you won't mind spending time with.
Compatible Skills
When sizing up a potential partner, look for someone whose skills complement your own rather than mirroring them. Lasting, profitable partnerships occur when each person offers something the other person can't or doesn't. If you're a people person but not amazing with money, search for a partner who's financially savvy. If your skill lies in rehab but not negotiations, consider finding a partner who can wheel and deal. Just make sure you're each aware of what the other person brings to the table. A good partner will be willing to determine and agree to the division of labor upfront.
Reputation
How is your prospective partner viewed within your community? What do other business associates think of him or her? Does he or she have loyal, satisfied clients? Whether it's fair or not, your partner's reputation will become entwined with your own once you join forces. Make sure that reputation is sterling.
A good partnership is a beautiful thing that can enhance your business and give you ease of mind. A bad partnership is a disaster that can wreak havoc in your day-to-day life. Don't be afraid to say no or to turn down offers that don't feel right.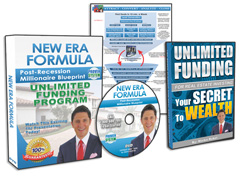 Request FREE Funding Kit and Discover How To Legally Bypass Banks And Gain Direct Access To "No-Credit-Required" Funding You Can Use To Achieve Your Financial Freedom... Start Now!